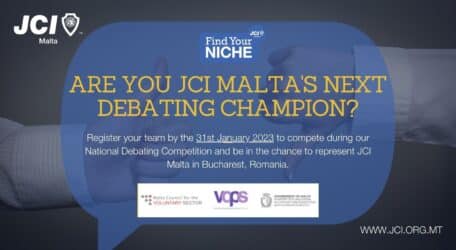 JCI Malta's National Debating Competition is back again for yet another edition, inviting all those between the ages of 18 and 40 to sharpen their debating skills and represent JCI Malta in Romania in May.
The National Debating Competition is being organised as part of the Find Your Niche programme by JCI de Rohan, one of the three local organisations within JCI Malta, and supported by the Voluntary Organisations Projects Scheme.
Applications are now open for teams of three, composed of members between the ages of 18 and 40. The teams will be trained prior to the competition and supported when it comes to the rules of JCI debating championships. The competition will close with one team being crowned the 2023 winner and being granted the opportunity to represent JCI Malta at the European Debating Championship in Bucharest, Romania in May 2023.
The programme will start on 7 February with a session called Debating 101 where all participants will get to learn the ins of debating. On 18 February, all participating teams will get the opportunity to participate in a friendly debating session, practising their debating skills on a variety of topics to be well prepared to compete on 25 February and win the title of JCI Malta' 2023 Debating Champions.
This project has been funded through the Voluntary Organisations Project Scheme managed by the Malta Council for the Voluntary Sector supported by the Ministry for Inclusion, Voluntary Organisations and Consumer Rights (MIVC).
For more information and to sign up, visit: https://jci.org.mt/events/calendar/national-debating-competition.