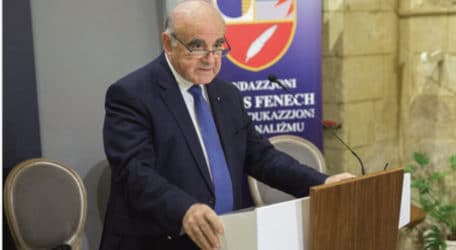 Whilst addressing the National Conference on 'Media Literacy – Overcoming the Digital Challenge', organised by the Tumas Fenech Foundation for Education in Journalism (FTFEĠ), on Wednesday, 13 November 2019, at San Anton Palace, Attard, the President of Malta, H.E. Dr George Vella, highlighted the way forward to overcome the digital challenges of media literacy, as he elaborated on the evolving nature of how information and news are being generated, shared and consumed, with the role of the journalist being consequently transformed.
President Vella appealed for co-operation between policy makers, educators and ngos to address these digital challenges, in this way ensuring that young people are equipped with the right media literacy tools and are psychologically empowered to recognise facts from myths.
He was very explicit when he opined: "We need to ensure that young people do not fall into the trap of believing that the article with the most likes and shares is undoubtedly based on facts and is sacred truth."
Furthermore, he confidently expressed his firm belief "that through cross-disciplinary collaboration, including schools, parents, government agencies and civil society, we hold the key to promote the responsible use of the Internet and a more holistic approach to digital citizenship", meaning media literacy should be tackled in a strategic, visionary manner.
President Emeritus H.E. Dr Ugo Mifsud Bonnici, in his capacity as Chairman of the FTFEĠ, in his welcome address stated that our society is now faced with two formidable challenges which need urgent attention: how to extend to all, young and old, the full benefit of media communication in the active and passive sense, thus bridging the digital divide; and how to control the abuse, in hate speech, false information and other aberrations to which the media have been, on occasion, lending themselves.
"In this moment in history our democracies, and indeed our civilisation, have come to depend on the widest possible dissemination of media literacy and of their proper critical evaluation. If majorities can be conjured by demagogues on the basis of the deception of the uninformed, even the future of the most solid and old democracies would be seriously threatened," he said.
In his speech, Education Minister Evarist Bartolo was forthright in declaring that: "Digital technology does not have a life of its own. We can use it to do good or to cause harm. Digital challenges are social, political and ethical challenges."
The Deputy Secretary General of the United Nations agency, International Telecom-munication Union (ITU), Malcolm Johnson, one of two keynote speakers at the Conference, paid tribute to Malta for its long association with the ITU, having been declared as a role model for telecommunications development worldwide a quarter of a century ago at the ITU World Conference in Buenos Aires, Argentina, in the presence of the US Vice-President Al Gore, who had concurrently launched the Global Information Infrastructure (GII).
That was the foundation that enabled Malta to lead the way in many new areas of information and communication technology (ICT), in particular distributed ledger technologies (DLT), blockchain and artificial intelligence (AI). He gave full credit to Malta's leading role in DLT and blockchain as he reaffirmed: "The government's legislative framework for DLT is a model for others that wish to attract fintech companies as it is already showing encouraging results."

Mr Johnson recognised these attributes and lauded Malta for its very recent launch of an ambitious strategy for AI − a strategy with the explicit aim of putting Malta among the top 10 nations with the highest impact national AI programme.
Against this background, he expressed his firm recommendation to the Government of Malta to enhance the country's active participation, as hitherto, in some of the related areas of work in ITU. These include joining the newly launched Focus Groups on 'AI for autonomous and assisted driving', 'Quantum Information Technology for Networks', 'Environmental Efficiency for Artificial Intelligence and other Emerging Technologies' and 'AI for Health', jointly with the World Health Organisation.
Mr Johnson also had words of praise for all those who have nurtured the relationship between Malta and the ITU and singled out Ambassador Anthony De Bono's meaningful contribution. On behalf of the Secretary General of the ITU, he presented Ambassador De Bono with an official credential certificate of appreciation, which acknowledged his successful mission when Chief Executive Officer of Telemalta and Chairman of the Commonwealth Telecommunications Organisation, on which occasion he not only developed a close relationship with the ITU for over three decades as Malta's Special Envoy, but also implemented the Malta Master Plan eight years ahead of schedule with the assistance of an ITU team of experts.
This led to Malta's prestigious achievement in becoming the first country in the world to completely digitalise its network. Mr Johnson concluded his speech by expressing his firm conviction that Malta's influence on the world of technology stretches well beyond its shores and that the country is blessed with the natural role of being a bridge for goodwill and co-operation between nations. "And that is why I hope Malta will play an active role in the ITU and more specifically within the Commonwealth ITU Group, set up in 2002 and revived at last year's ITU's Plenipotentiary Conference in Dubai."
The second keynote speaker, Dr Sally Anne Cruikshank, Assistant Professor at the School of Journalism and Strategic Media, Middle Tennessee State University, USA, made several recommendations on media literacy to the Conference participants, who included educators and tertiary level students. She emphasised that media literacy education should start early in life without forgetting older adults.
Dr Cruikshank strongly advised a more dynamic approach on media literacy education. In parallel, she advocated the strategy of reframing media literacy as part of citizenship and underlined the ability of the media to connect people and celebrate diversity, without ignoring the need to hold accountable media companies and social media platforms.
Two discussion panels, facilitated by Mr Herman Grech and Mr Fabian Demicoli, respectively, debated the themes of 'Implications of Media Literacy' and 'The role of NGOs in Media Literacy'.
In his closing remarks, the FTFEĠ Hon Secretary, Mr Malcolm J. Naudi, thanked all those who contributed to the success of the Conference, including the sponsors: the American Embassy in Malta, GO plc, the Superintendence of Public Health and HandsOn Group of Companies.