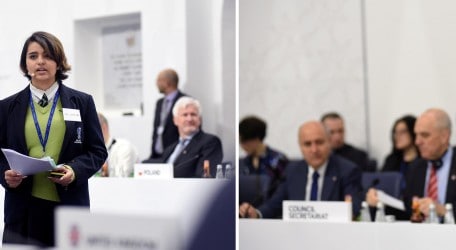 HSBC Water Programme – Catch the Drop's ambitious agenda to conserve and renew water resources in Malta was delivered at the highest fora of European policymakers when two students from the Archbishop Seminary and Maria Regina College addressed the Informal Meeting of European Environment Ministers under the Maltese Presidency.
The students, Isaac Fenech (Archbishop Seminary) and Samira Axiak (Maria Regina Girls' Secondary School) had the opportunity to speak directly to the environment and climate ministers from the EU28 as well as the EU-candidates and apprise them of the progress their respective schools have made in writing a new water roadmap with the help of HSBC Water Programme – Catch the Drop.
A group of four students representing the EkoSkola programme then read out a declaration of the recently held 7th Young People's Summit. The declaration's three main components are water resources, climate change, and the circular economy. EkoSkola is managed by Nature Trust Malta and has been receiving HSBC Malta's support going back to 2006.
In allowing the students to address the EU delegates, the Ministry for Sustainable Development, the Environment and Climate Change broke away from the tradition and showcased the progress Malta has made in the area of water conservation.
The HSBC Water Programme – Catch the Drop is the largest campaign of its kind in Malta and was originally launched in 2013 to rally schools around the call of water conservation by offering project finance. Due to the overwhelming success of the programme, however, its mandate was expanded to include local councils, higher education institutes, cultural programmes, and publications.
Outside the plenary, the visiting EU ministers and delegates witnessed water-themed artworks produced by the students of St Ignatius College. The original 48 artworks were first publicly displayed at the Maltese Parliament as part of World Water Day 2017, organised by the HSBC Water Programme – Catch the Drop.
Later, during a gala event, the delegates had the opportunity to enjoy the popular 'Water Life' and 'Catch the Drop' songs. The songs and copies of the art exhibition brochure were presented to each delegate as mementos.
The HSBC Water Programme – Catch the Drop is aligned with the European Union's Circular Economy Package and the United Nations' Sustainable Development Goals.