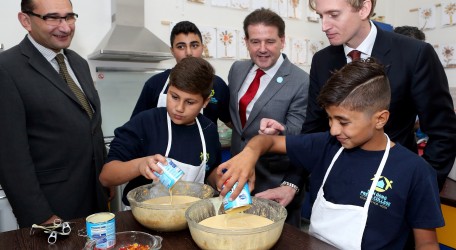 Malta, via the HSBC Malta Foundation, becomes the first country outside of the UK to introduce one of The Prince's Trust's long-standing educational programmes in its secondary schools. In the UK, The Prince's Trust is dedicated to helping young people, aged 13 to 30, to get into jobs, education and training.
The Prince's Trust works in partnership with over 500 schools and centres in the UK and has, so far, helped 825,000 young people. This support for young people will now be extended to Malta.
One of its most successful schemes, the xl programme, will be available to young people in Malta to help them to develop the skills and confidence they need to reach a positive future, through relevant, engaging and informal learning.
The xl programme will be initially introduced in seven schools across Malta and Gozo with the full support of the Minister for Education Evarist Bartolo, who said: "The ambition is to make the programme available to young people in need across Malta and Gozo."
The xl programme uses a flexible approach to learning and development and focuses on areas beyond the classroom environment. Young people are encouraged to work together as a group on practical learning projects, which are designed to boost their confidence, improve self esteem, attainment, behaviour and attendance.
HSBC Group Head of Government Affairs Sir Sherard Cowper-Coles said: "To mark 150 years in business HSBC is donating USD150 million to charities and community projects around the world to thank customers, shareholders and employees for their support. Malta has been an important part of HSBC's history and we are delighted that a donation can be made from this overall USD150 million fund to provide further support for young people in Malta."
HSBC Bank Malta CEO Andrew Beane said: "HSBC Malta Foundation is extending a grant of €300,000 over a period of three years to Prince's Trust International, as part of the HSBC's USD150 million Community Fund. In doing so, the Foundation is helping the Ministry for Education implement this ground-breaking empowerment programme with the aim of supporting youth."
The USD150m Community Fund will support over 140 community projects and local charities worldwide over the three-year period from 2015-17. Prince's Trust International's work in Malta is one of the initiatives supported.