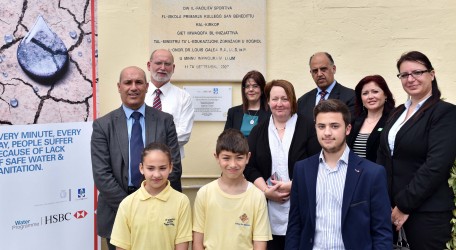 The St Benedict Kirkop Primary School has joined the growing water-conservation movement instituted by HSBC Water Programme – Catch the Drop, following the inauguration of the school well.
Thanks to a grant by the HSBC Water Programme – Catch the Drop, the school will be able to harvest and utilise rainwater for cleaning and flushing purposes after restoring an unused well within the school's premises. Kirkop Primary also proceeded to install water pumps and plumbing connections to several of the school's water outlets in order to reduce its demand for water supply.
The project opening ceremony was led by St Benedict College Principal Paul Debono, Kirkop Primary Head of School Josette Cassar, Assistant Head of School Daniella Micallef and HSBC Water Programme co-ordinator Glenn Bugeja in the company of officials from the school and HSBC Malta.
HSBC Water Programme – Catch the Drop is the largest ever campaign of its kind in Malta and aims to forge a blueprint for progress on sustainability of water as a resource. The Kirkop Primary project was one of 21 school projects that won funding from the campaign for scholastic year 2013-14.