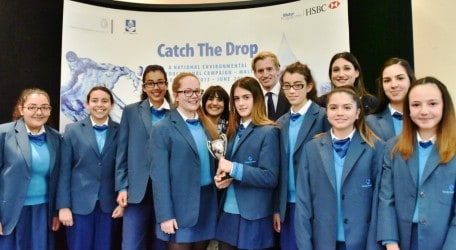 A nationwide quiz award swept by Saint Theresa College Secondary School Mrieħel in 2016 has been put to good use by upgrading the school's facility system to save water as well as getting reusable bottles for students.
The school won €2,500 prize money as part of the HSBC Water Programme – Catch the Drop Secondary School Quiz. The funds were used to replace the flushing system in the top floor students' bathroom with a more efficient system, while the reusable bottles are expected to help students save disposable bottles from going to Malta's two landfill sites.
It is to be noted that manufacturing of disposable bottles in itself is a water-intensive process. HSBC's donation of reusable bottles ties in with the European Comission's Circular Economy Package, an ambitious action plan that calls for maximimising the lifecycle of products. To date, the HSBC Water Programme – Catch the Drop has distributed more than 3,000 high-quality reusable bottles leading to a saving of nearly half a million disposable bottles a year.
Meanwhile, due to the popularity of the Secondary School Quiz in 2016, the HSBC Water Programme – Catch the Drop has announced that it will once again organise the quiz as part of the World Water Day 2017. The water themed quiz is being organised with the Department of Curriculum Management and eLearning Department. It will be held on 22nd March 2017 at St Nicholas College Dingli Secondary School. The winning schools will receive grants to implement a water conservation project on their premises.