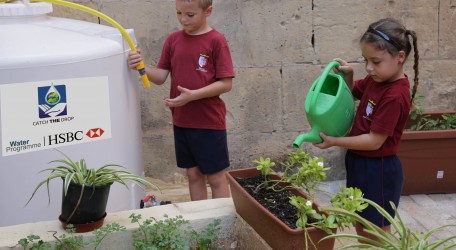 St Margaret College Senglea Primary celebrated the installation of water tanks as part of the school's water harvesting project. The project was financed by the HSBC Water Programme – Catch the Drop.
The inauguration ceremony was led by Parliamentary Secretary for Research, Innovation, Youth and Sport Chris Agius and HSBC Malta CEO Andrew Beane both of whom also unveiled a commemorative plaque.
Earlier this year, Senglea students received 120 magnets with messages of water conservation on them, while another 120 water-tap aerators were distributed to the families of the students under the HSBC programme.
Catch the Drop is a large-scale three-year initiative partly-funded by the HSBC Group to raise awareness about water conservation and stimulate positive change towards sustainable fresh water use in Malta and Gozo. The campaign aims to reach every single student in Malta, that is, over 50,000 students coming from 155 schools, all the 67 Local Councils in Malta and Gozo, as well as the Maltese community at large.