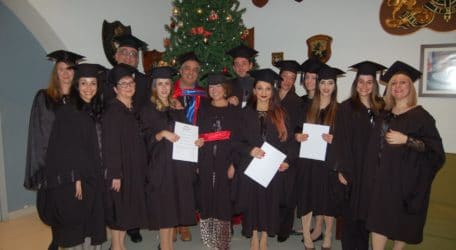 The Institute of Family Therapy-Malta (IFT-Malta) recently celebrated the graduation of a number of its students during a short ceremony held at The Golf Club, Marsa, followed by a reception party.
The event was introduced by Director/Tutor Mrs Carmen Delicata, together with IFT-Malta Chairperson Dr Charlie Azzopardi. Dr Azzopardi described how the concept of IFT-Malta formed, grew and steadily developed over the years. Whilst reflecting key achievements, he thanked the other directors, tutors and external tutors for their collaboration and contributions over the years. Dr Azzopardi also thanked the numerous students who placed so much trust in the capabilities of the Institute to train them towards reaching this important achievement.
A total of 21 students graduated in all – 14 achieved a Post Graduate Diploma in Systemic Family Psychotherapy, and seven achieved their Masters in Systemic Family Psychotherapy. Graduates from the latter group will proceed to receive Warrants in the coming weeks.
Apart from offering training to professionals in Systemic Family Psychotherapy, IFT-Malta also offers training in other clinical areas. During 2019 IFT-Malta introduced a new Level 5 Certificate in Therapeutic Care with Children & Adolescents in Out-of-Home Settings; a new Bachelor's Degree in Psychological Therapies; and a new Qualification in Supervision for different professionals.
IFT-Malta is currently exploring collaborations with different local and foreign organisations and is planning to export its training to both Ireland and Italy next year. One interesting development is a collaboration with the Coaching Clinic in Dublin, with which IFT-Malta is planning to start a Masters in Strategic Coaching. Other exciting projects include also a collaboration with Mid-Dlam għad-Dawl in developing two specialist services for families and children of persons in prison, the first project of which commences this coming January.
IFT-Malta is also committed to offer professional help through individual, group, and family psychotherapy; family mediation; family education to the general public; consultation to organizations and professionals in relation to clinical practice; clinical supervision to organizations and professionals in relation to clinical practice; systemic consultation to public or private organizations and research on family related themes.
IFT-Malta regularly delivers education programmes for partners, spouses, and parents, children, schools and organizations to promote well-being in society, based on positive family and work environments, and a healthy balance between the two.
The Institute of Family Therapy-Malta is an Associate Member of the Training Institutes Chamber of the European Family Therapy Association, and also an Institutional Member in Good Standing of the International Family Therapy Association. All training offered at IFT-Malta is accredited by the National Council for Further and Higher Education (NCFHE).