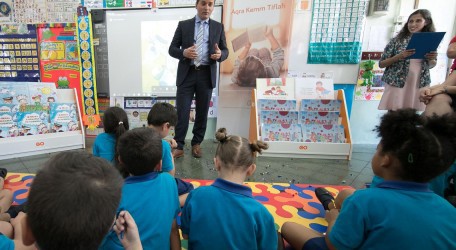 New libraries have been presented to the Msida Primary School as part of the Aqra Kemm Tiflah project which is being supported by the 'GO for the future' fund. Aqra Kemm Tiflah is run by the National Literacy Agency within the Ministry for Education and Employment, and aims to install new libraries in every Year 1, 2 and 3 classroom in state schools across Malta. Each library includes 100 high-appeal books to encourage children to read for pleasure. The books are both fiction and non-fiction, 50 in Maltese and 50 in English.
During the presentation of the new libraries by GO's Chief Commercial Officer, Kurt Camilleri, children from the school which forms part of the St Theresa College took part in various reading activities. At the same time, two new big books were launched by the National Literacy Agency; Is-Shaba l-Imqarba by Maria Attard and Il-Gugarelli by Romina Zammit. These books have been published as part of the Bil-Hila Taghkom project which aims to encourage the creation of new resources for the reaching of Maltese.
Mr Camilleri said, "GO for the future was launched with an initial commitment of €80,000 to support education and the popularisation of science. In just six months we have already made two very significant investments; in Aqra Kemm Tiflah and the Malta Robotics Olympiad. It is clear that Malta's future prosperity will depend not only on our technology and communications infrastructure but also on our ability to make the most of the new opportunities these will provide. To do this we need people who are passionate about science and technology. But above all else we need people who want to learn and for that we need to help children develop a love for reading. This is why Aqra Kemm Tiflah is such an important project."
'GO for the future', which was launched in November 2016, committed €11,000 to Aqra Kemm Tiflah during the current academic year and will commit a further €11,000 next year to ensure the project continues.