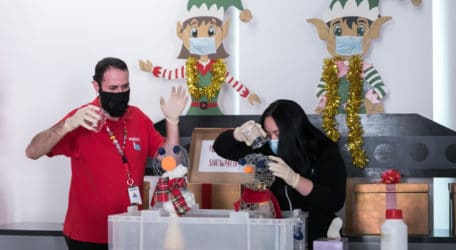 Spread over several buildings and large outdoor areas with stunning Grand Harbour views, Esplora launches its festive season calendar of events for all the family. Festive Science at Esplora guarantees socially distant dazzling shows and fantastic activities for all the family!
As an Interactive Science Centre, Esplora is committed to reaching out to more people especially to those who say that science is not for them. Esplora has managed to increase its visitor numbers, whilst safeguarding public health and safety, including adults and has become more inclusive by holding activities such as Autism Friendly Hours which happen to take place this Sunday 20th December between 9:00 and 12:00.
During the Festive Science programme visitors can merge their artistic skills with technical ones to create various Christmas-related items. Through the fun exploration at Esplora, visitors will discover that magic and science are not that different after all. Children between the age of 0 to 15 years visiting Esplora during the month of December and January enter for free.
On Fridays, Esplora is open in the afternoon and evening. On the 18th December, visitors can enjoy a relaxing evening to a live Jazz duo by Adrian ir-Russu on trumpet and Marc Galea on guitar. EsploraCafé will be serving a special Christmas menu whilst adults will be given one complimentary free imbuljuta.
As is customary at Esplora one can chose to participate in a workshop such as Light Up Your Christmas (Ages: 4+) where one can create his/her own Christmas decorations or even create a light-up card to send to a special someone. In addition, one can use maths to create Christmas decorations during the Make a Snowflake Station (Ages: 4+).
Esplora is best known for its delivery of science shows. In 12 Days of Christmas (Ages: 5+) a scientific twist to the famous Christmas carol will be give. A spectacular show full of colourful reactions, music and mind-boggling demonstrations. Electrobuzz! (Ages: 8+) is another science show that will help visitors explore the wonders of elecrity. Electricity goes on an incredible journey to reach the sockets of people's house. The audience will learn how to harness nature's electricity, learn about circuits and how electricity is generated.
The Planetarium is also a spectacle in itself. Wonders of the Night Sky: Christmas Edition (Ages: 3+) is a live show where one can check what the astronauts are up to on the International Space Station. Visitors will also travel the night sky as it can be seen on Christmas Eve.
Last but not least, a Christmas Science Advent Calendar was especially produced. The calendar holds various fantastic activities whereby both children and adults can use their immagination. Children are encouraged to take photos of their creations and keep them till the end as on the 25th December as Esplora has a special gift in store! The calendar may be accessed from:http://esplora.org.mt/christmas-science-advent-calendar/.
During the launch of the initiatives prepared by Esplora for the festive season, Dr Jeffrey Pullicino Orlando, Executive Chairman of the Malta Council for Science and Technology, explained how Esplora is embedding science into cultural traditions to make it relevant to the public and spark their curiosity. He stated that: "At Esplora we believe that both active and interactive learning are very important. Our core ideology is based on providing 'hands-on' and 'minds-on' experiences that foster 21st century skills, such as problem solving, critical thinking and creativity, all of which are crucial in today's fast-changing world."
The Hon. Owen Bonnici, Minister for Research, Innovation and the Co-ordination of post COVID-19 Strategy said that children must be brought closer to the world of sciences while having fun. He said that those events serve to build a fruitful link between the upcoming generations and this sector which is crucial for the economic and social progress of our country. 
Dr Bonnici thanked the management and staff at Esplora for the excellent work.

The weekly schedule may be accessed via: http://esplora.org.mt/week-schedule

Opening hours may be accessed here: https://esplora.org.mt/opening-hours/