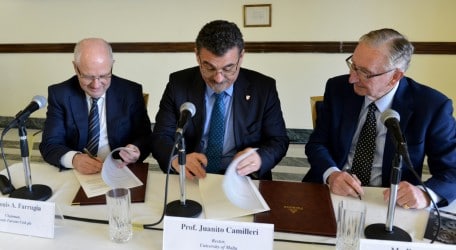 Pictured above:  Simonds Farsons Cisk plc Chairman Mr Louis A. Farrugia,  the University Rector Professor Juanito Camilleri and the Farsons Foundation Chairman Mr Bryan A. Gera
Following collaboration in the field of industrial heritage, the University of Malta and The Farsons Foundation together with Simonds Farsons Cisk plc are formalising and strengthening their relationship by extending their partnership in areas of common interest.  They have agreed to work together on a number of initiatives that have been included in a memorandum of understanding (MOU).
The three-year agreement was signed by the University of Malta Rector Professor Juanito Camilleri, The Farsons Foundation Chairman Mr Bryan A. Gera,  and Simonds Farsons Cisk Chairman Mr Louis A. Farrugia.
The MOU allows for the support of a number of grants, the institution of prizes and for the exchange of technical assistance, and it shall serve to further strengthen the collaboration between the parties.
Prof Camilleri said: "This Agreement brings two prestigious institutions in Malta closer together.  No doubt, the collaboration that will ensue from this milestone will strengthen both entities."
"Our agreement with the University of Malta aims to support certain faculties in the fields of engineering, built environment and history, among others," said Mr Gera.
Over the past months, Simonds Farsons Cisk plc, The Farsons Foundation and the University of Malta have intensified their collaboration not least in the organisation of a one-day conference in 2013 focusing on the diverse approaches in the preservation and presentation of industrial heritage in Malta, and the publication of the conference proceedings in a book entitled Approaches to Industrial Heritage: What works?.
Mr Louis A. Farrugia, Chairman Simonds Farsons Cisk plc underlined the importance of this agreement. He said: "We have been working with the University of Malta for more than a year to get to this point today – our first formal cooperation agreement with the University. We hope to further expand the education and industrial links to respond effectively to the fast changing needs of the industry in Malta."