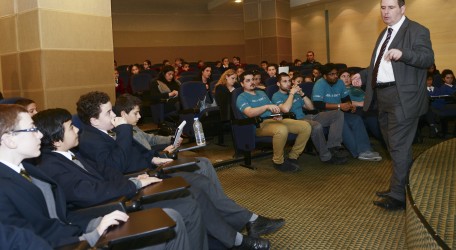 Summit extended to all schools involved in the HSBC Water Programme, 'Catch the Drop' Campaign
Following  the  initiative launch by of HSBC's Water Programme, this year's EkoSkola Young People's Environmental Summit, held today, was opened to all schools  including  those  participating  in the 'Catch the Drop Campaign'. More schools could participate this year thanks to support from HSBC Water Programme.
For the first time, this third edition of the summit dedicated its plenary session entirely to water sustainability and water conservation measures in Malta.   This session  included  a  presentation  on  the  National  Water Management  Plan  for 2014, a short video with local water facts, and a video overview  about HSBC Malta's 'Catch the Drop Campaign' – a strategic 3-year programme  supported   by  HSBC  Group  to  raise  awareness  about  water conservation  and stimulate positive change towards sustainable fresh water in this country.
To raise awareness on water issues beyond Malta's borders, a presentation was also given by HSBC Malta staff volunteers who related their recent experiences in Ghana at WaterAid project sites. With HSBC's support this project is helping to improve water access and quality of life in various communities.
During the summit, a focused forum with workshops and discussions on sustainable development was lead by Ministers and experts to address five key themes. The conservation of water as a precious resource with reference to Malta was one of the topics examined at length, together with energy management, waste management, achieving sustainability as a family unit, and student empowerment.
Over these last 11 years, EkoSkola has been instrumental in fostering active citizenry at local and national levels. Students participating in this  national programme have shown their commitment towards sustainability by  actively  participating with local councils in discussions and projects aimed  at  fostering  a  better  quality  of  life  in  various localities. Moreover,  EkoSkola  students  engage  in face-to-face debates on environmental  issues  with  the  country's  official  policy makers in the annual EkoSkola Parliament Session.