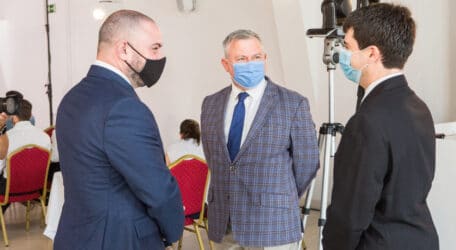 A project that will improve the resolution of sea surface temperature measured by satellites using Artificial Intelligence.
A team of three researchers from the University of Malta has been successful in improving the resolution of the sea surface temperature data using Artificial Intelligence (AI) techniques, making it better equipped for climate change monitoring and weather forecasting.
In his opening remarks, the Executive Chairman of the Malta Council for Science and Technology (MCST), Dr Jeffrey Pullicino Orlando said that: "MCST has a leading national role on space-related matters. We advise our Government on Space Policy and work to promote the sector locally through education, capacity-building and other initiatives. We collaborate with foreign space agencies and allocate funding for space research, most notably through our Space Research Fund.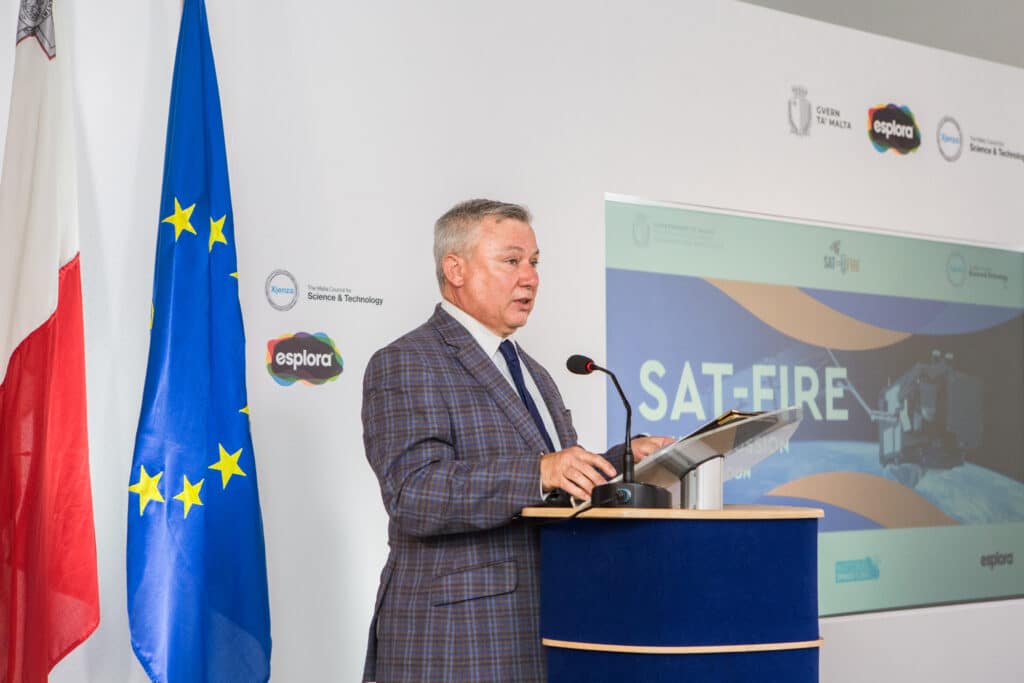 This morning, we have witnessed one of the success stories of the Space Research Fund, which was set up to fund R&D&I projects in the downstream Earth Observation sector. The project SAT-FIRE received approximately 150,000 euros in funding to support investment in human resources for research and specialised IT equipment."
A growing number of satellites are orbiting our planet, to monitor its constantly changing environmental, geophysical and atmospheric conditions. These satellites have sophisticated cameras onboard which can be used to capture images of the Earth as the satellite passes by.
These can be optical cameras, which take standard colour pictures similar to the ones we would take from the window seat of a plane using our smartphone, or thermal cameras, which measure heat being emitted by the Earth's surface. One important parameter captured by thermal cameras is the sea surface temperature, which is very useful in the forecasting of sea currents.
Minister for Equality, Research and Innovation Dr Owen Bonnici attended the public engagement event promoting this project. In his address, he congratulated the researchers for their great achievement, which is being recognised internationally.
He also thanked the European Space Agency for their continuous provision of technical expertise and the Space Research Fund Scheme, which is instrumental in making such research projects possible.
Minister Bonnici explained that, "Space research has immense potential that we have only just begun to uncover. It can help us find innovative solutions to issues that effect our everyday lives. Through space research, we can gather better data allowing us to assess environmental hazards, manage natural resources and understand better the changes in our climate and how our environment is being effected."
Dr Ing Gianluca Valentino, a Lecturer at the University of Malta and the Principal Investigator of the SAT-FIRE project, said that the European Space Agency's Sentinel-3 satellite can measure sea surface temperature data of the same location every two days, therefore making it suitable for use in forecasting sea currents. However, the resolution of the data is low, as only changes in sea surface temperature over an area larger than 1 kilometre can be measured. On the other hand, the USGS/NASA Landsat 8 satellite can capture images with more detail. Changes in temperature over areas as small as 100 metres can be seen, but as the satellite passes over the same spot only every 16 days, its data cannot be used for forecasting purposes.
The SAT-FIRE (SATellite data Fusion and Imaging Resolution Enhancement for coastal areas) project was one of the first projects to receive funding by the first-ever national Space Research Fund. The principal investigator on this project is Dr Ing. Gianluca Valentino, with the co-investigators being Dr Ing Reuben Farrugia from the Department of Communications and Computer Engineering and Dr Anthony Galea from the Department of Geosciences at the University of Malta.
Project SAT-FIRE is financed by the Malta Council for Science & Technology, for and on behalf of the Foundation for Science and Technology, through the Space Research Fund.