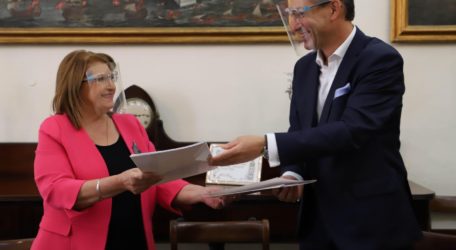 Vulnerable children will receive computers and tablets to access online learning following an agreement struck between the Malta Foundation for the Wellbeing of Society and the Malta Chamber of Commerce, Industry and Enterprise.
This Memorandum of Understanding was born from the Foundation's work with The Food Aid Project last March, when it became acutely aware of the struggles disadvantaged households faced when schools closed and classrooms went online due to the COVID-19 pandemic.
Foundation president Marie-Louise Coleiro Preca said: "During the partial lockdown, the issue of the digital divide became more evident. The Education Department attempted to address this, however, in households where more than one child lives, they need more than one computer to follow their lessons and this is where we hope to fill the gap."
The agreement will explore possibilities for collaboration, and find tangible ways to advocate and influence education policies to overcome the existing skills gap and the high rate of early school leavers.
Apart from this, the agreement will double up as an environmental initiative for technological hardware to be recycled. The Chamber will also encourage its members to seek used laptops and tablets, and where necessary upgrade and refurbish the equipment.

Chamber president David Xuereb said it was vital to ensure no child was left behind and that online access was available to everyone. It was imperative, he added, that caregivers were equipped with the necessary knowledge and means to provide a complete education for their dependents during these trying times.
"As schools have reopened their doors to students and started operating within the context of the challenges of the COVID-19 pandemic, we must make sure children hailing from challenging backgrounds are not at a disadvantage," he said.
The Foundation is also hoping to identify children who are most in need of this equipment by collaborating with NGOs working in this field.
"Access to technology is more important than ever before and during the partial lockdown it enabled us to remain connected, learn online, work from home and continue contributing to the economy and our society.
"The pandemic has also exposed the growing digital divide. This needs to be urgently tackled, otherwise, children who come from disadvantaged backgrounds will be doomed to further social exclusion. If left unaddressed, it will create a new class of poor people," Ms Coleiro Preca said.