Children are calling on adults to create the time to communicate with them, and set aside their mobile phones to engage in a respectful dialogue that makes them feel heard, according to a national consultation exercise.
Children were not after adult's material possessions or token participation and what emerges from this new publication is a loud appeal for adults to listen and make sure children's voices are heard at every level of society.
The message is clear: "Adults do not have enough time and sometimes we are looked at as if we are something to be ticked off a checklist."
'You Matter No Matter What', being launched today by The Children's Hub within the President's Foundation for the Wellbeing of Society, is a 70-page report that presents data collected from a one-year consultation exercise among 2,400 children in 48 schools across Malta and Gozo.
What is innovative about this research is that the children designed the project from start to finish, including coming up with the theme You Matter No Matter What, and even conducting the data analysis with a little help from their adult 'consultants'.
President Marie-Louise Coleiro Preca said: "Children and young people are the experts when it comes to their own experiences… As adults, it is our responsibility to include children in our discussions and to provide them with the support they need to participate.
"I hope the findings presented in this publication will inspire others to undertake similar initiatives and to work harder to create opportunities for child participation and the promotion of children's rights."
This publication forms part of Eurochild's Child Participation Strategy, which set up three National Eurochild Forums in 2017 and chose to have these piloted in three countries: Malta, led by The President's Foundation for the Wellbeing of Society; Bulgaria, led by National Network for Children; and Estonia, led by Estonian Union for Child Welfare.
Foundation director general Ruth Farrugia said that through this project, the Foundation focused on Article 12 of the UN Convention of the Rights of the Child, which states children have the right to be heard and for their opinions to be taken seriously.
"There is still a long way to go before we can consider the participation of children as part of any standard process. We hope that our experience inspires more organisations and entities to consider the opinions of children to be as valuable as those of adults," Dr Farrugia said.
"We know how difficult it can be to practice child participation effectively and genuinely but this project shows it can and does work and is well worth the effort.
"The findings reveal how children feel happy and fulfilled when they are listened to, how desperately they struggled to compete with other demands on adults' time," Dr Farrugia.
The aim of the publication focused on giving children the opportunity to share how effectively, or not, they were being heard in today's society.
The key question children were asked during this project was: "What makes you feel heard and what stops you from being heard?"
Eye contact and body language were two factors children believed were important in helping them feel their message was getting across, as well as being treated with love, reassurance and respect.
Part of the project entailed getting the children in all the participating schools to use T-shirts as a blank canvas to draw the message they wanted to get across on what made them feel heard and what stopped them from being heard. The 80 T-Shirts collected were exhibited at the European Parliament in Brussels to serve as reminder for politicians and decision-makers to stop and listen to children's views and opinions.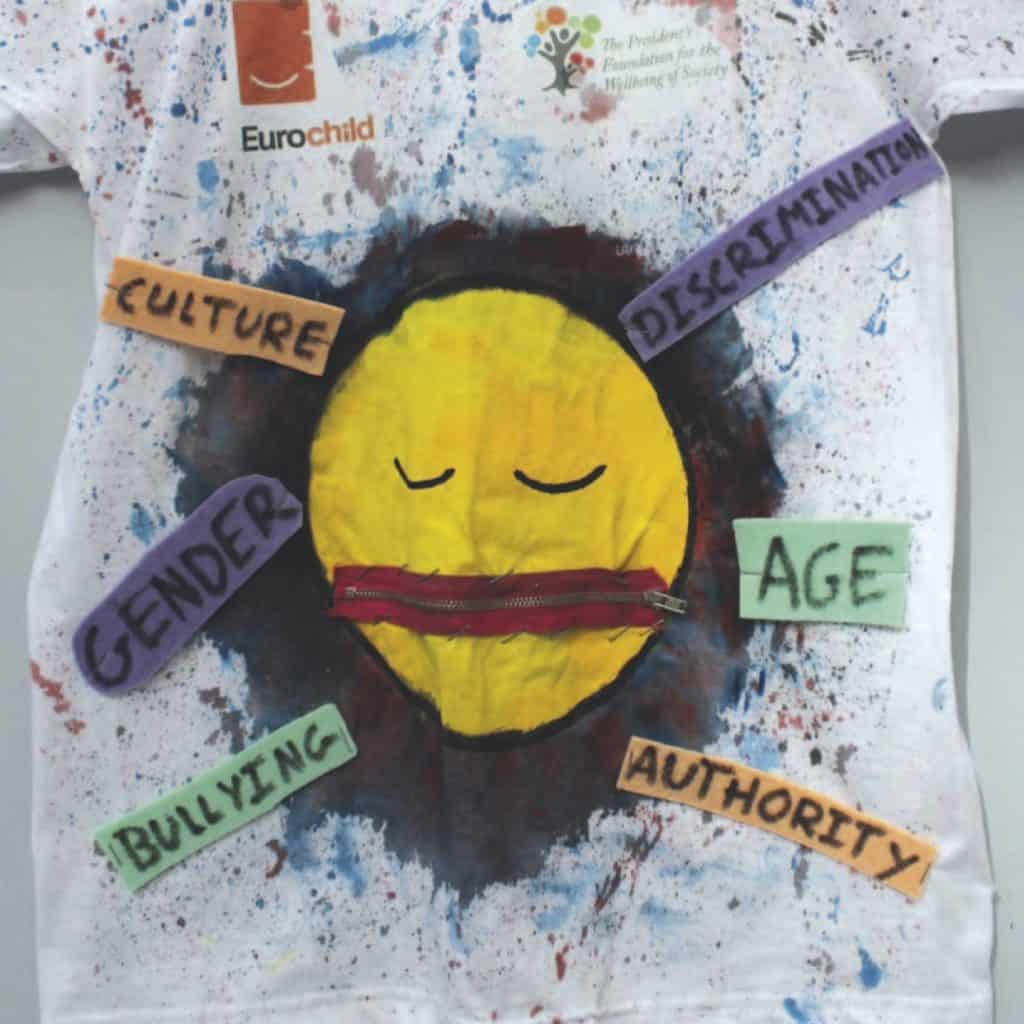 The report shows that the majority of children said that what stopped them from being heard was the frequency with which adults failed to listen to them; social exclusion; disrespect; abuse and violence; as well as other external factors such as lack of time as adults were constantly using their mobile phones and other devices.
Children also highlighted the fact that the education system in its current form was contributing to a lot of stress. They needed adults who were patient, who created a sense of peace and promoted harmony to instil a sense of belonging.
The children concluded by saying that the changes they wanted to see happen were simple things that involved changes to behaviour and attitudes and did not cost money.
They had one final message: "Listening to children and making them feel heard has no price but infinite value. Children's fundamental rights should be given more importance and adults should respect them."