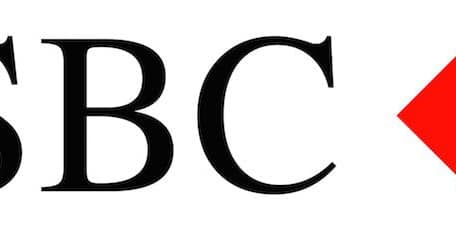 • HSBC report uncovers a generation of pre-retirees keen to retire soon, if only they could
Sixty-five per cent of pre-retirees aged 45 and over would like to retire within the next five years if circumstances allowed, but 38% of these say they are unable to do so, according to HSBC's report, The Future of Retirement Healthy new beginnings.
Financial pressures are so great that 18% of pre-retirees worldwide predict that they will never be able to retire fully. This is almost twice the proportion that said the same in 2015, when 10% of pre-retirees expected never to be able to afford to fully retire.
In the survey of more than 18,000 people in 17 countries worldwide, HSBC found that the desire to retire among 45+ pre-retirees is strongest in Argentina (78%), France (77%), China (75%) and in the UK (75%). Of those aged 45+ who would like to stop working and are unable to do so, 81% say this is because they would struggle financially.
HSBC's report also reveals that 55% of working age people over 45 who would like to retire in the next five years want to do so to have the freedom to travel or pursue other interests, and 44% say they would like to spend more time with family. Nearly one in three (29%) say they would like to retire because they are tired of the everyday routine of work and almost a quarter (23%) say it is because their work is having a negative impact on their mental and/or physical health.
Working age people over the age of 45 who have a retired partner are most likely to want to retire in the next five years (81%), with 39% saying they would like to do so to join their partner in retirement.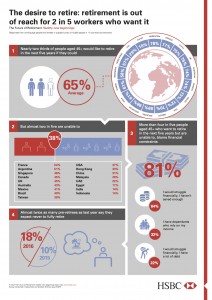 Of those 45+ pre-retirees who would like to retire but are unable, 64% say this is due to not having saved enough, 32% say it is because they have dependants who rely on their income and 24% cannot retire due to having a lot of debt.
Charlie Nunn, Group Head of Wealth Management, comments: "People worldwide are recognising that retirement can be an opportunity for reinvention and new beginnings. Yet financial barriers are preventing many people from retiring when they would like to – or, in some cases, at all. Almost one in five people fear that they will never be able to retire fully, so the need for sound financial planning is stronger than ever.
"People should consider these aspirations when planning for retirement and ensure they are making sufficient financial provisions for this new chapter in life. Even small amounts saved today can lay the groundwork for a comfortable retirement tomorrow, placing retirement dreams squarely within reach."
HSBC's research identified four actions that individuals can take to improve their financial well-being in retirement.
• Start saving for an earlier retirement
Improve your chances of retiring when you want to, by starting your retirement saving as early as possible.
• Plan for a longer, more active retirement
Ensure you have a financial plan in place to make the most of this new chapter in your life.
• Aim for a healthier retirement
Don't wait until you have stopped working to take active steps to improve your health.
• Consider how your healthcare needs may change in retirement
Consider your financial obligations throughout retirement and make sure that potential healthcare needs are included in your plan.