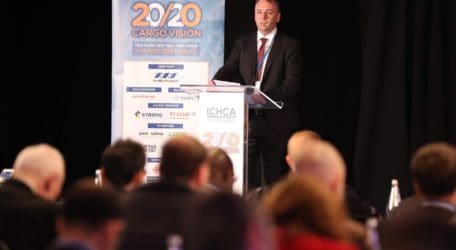 Safety standards and the environment are a top priority for Malta Freeport Terminals which has invested heavily to reach the highest levels in these important areas, CEO Alex Montebello said.
Speaking at the high-level ICHCA 20/20 international conference hosted by the Freeport in Malta, Mr Montebello said the shipping industry should do everything possible to create safer, more sustainable and secure maritime cargo operations on land and sea.
"Malta Freeport has achieved success in this field through developing skills in a variety of areas, involving our colleagues, suppliers and stakeholders in every step of our continuous development of safety practices and environmental standards," Mr Montebello said.
The Freeport recently received the first LNG-powered tanker to visit Malta as well as investing in energy efficient RTG cranes and white noise alarms that have had a significant impact on noise levels for the neighbouring community.
Mr Montebello said that since it was set up over 25 years ago, the Freeport has made great strides forward in the transhipment industry, growing steadily from a terminal handling one-million TEUs to one which today handles three-million-plus.
"Our central location in the heart of the Mediterranean, network links to over 100 ports worldwide highly-trained personnel and an investment of almost €300 million in state-of-the-art equipment and technology have made us a port of choice for many clients in what we are acutely aware is a highly competitive industry.
"This has placed us in a position today that enables Malta Freeport Terminals to handle the world's largest container vessels carrying more than 20,000 TEU containers and turn them around with maximum efficiency."
The conference, being held at the Hilton Hotel, was also addressed by Infrastructure Minister Ian Borg.
This is the second ICHCA event hosted by Malta Freeport Terminals, the last time being in 2011.
ICHCA plays a vital role in the development of good practice in cargo handling worldwide.