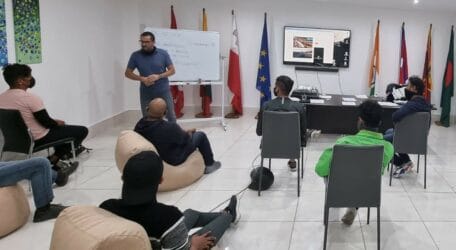 RecruitGiant, a leading Malta based recruiter of non-EU national workers, has engaged UPYourLevel to provide performance coaching to new entrants into the Maltese labour force. UPYourLevel is one of Malta's foremost leadership and team performance coaching organisations run by competent and experienced coaches.

Tomas Mikalauskas, Chief Executive Officer at RecruitGiant, said, "For RecruitGiant it's important not only to support workers who are coming to Malta from non-EU countries in adjusting to their new environment and working culture. Our aim, in fact, is for them to thrive. As part of this process, RecruitGiant provides job specific training in the home countries of these workers and then offers performance coaching to them here in Malta. Nathan Farrugia and his team at UPYourLevel are well known for the excellent training they provide and both our recruits and their employers are very satisfied with the impact on performance and job satisfaction."

Nathan Farrugia explained; "RecruitGiant approached us to help deliver the necessary training to encourage autonomy and engagement in the team. Our initial focus was on the management and leadership team, working with them to lay out the foundations for their Human Resources strategies. Our coaches then worked with the various teams across the company in workshops to help improve performance, communication and team spirit. Our experience shows that integration plays an important role in organisational performance, and many of the RecruitGiant team want to actively become part of our community."
Soorjat Zachariah, a service courier from India engaged with RecruitGiant , commented that, "The various performance coaching and training sessions organised by RecruitGiant equip us with valuable skills which helps us provide an excellence service to customers and ultimately facilitating progress in our careers."

RecruitGiant is a multi-discipline, specialist recruitment company offering a partnership led approach with clients, candidates and contractors. Based in Malta, but with operations across Europe, the Middle East, Africa and Australia, the company offers professional recruitment services including payroll and outsourcing services to multiple sectors including construction, manufacturing, and service delivery.
More information is available at https://recruitgiant.eu/