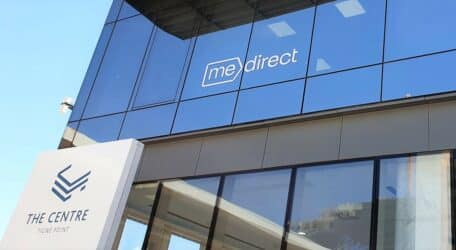 MeDirect Bank announced a profit after tax of €10.1 million for the six months ended 30 June 2023. Whilst achieving these results, MeDirect continued to launch new products, grew its customer franchise and further expanded its specialised lending platform. These accomplishments were facilitated through MeDirect's investment in technology, which is producing tangible results for the Bank and its customers.
Expanding the range of products
During the first half of 2023, MeDirect launched a range of new products. In Belgium, MeDirect launched its MeManaged product, an online discretionary management service with portfolio management provided by MeDirect, using fund products managed by BlackRock, the world's largest asset manager. In Malta, MeDirect began to offer its MeMax instant savings account as well as a new Property Loan product for clients purchasing real estate as an investment. In June, MeDirect launched its online debit card service, enabling customers to use their MeDirect accounts for their daily banking needs. MeDirect's technology also enabled it to streamline its mortgage application process and to continue to improve its payment hub platform.
Growing the MeDirect customer franchise
MeDirect's retail franchise, focused on affluent customers, grew by 8% over the past twelve months to more than 114,000 retail clients, of whom 41,000 are wealth clients. The number of wealth clients increased by 12% over the past twelve months, and total client financial assets increased by 4.5% year over year, reaching €4.5 billion notwithstanding very challenging market and macroeconomic conditions.
In mid-May, MeDirect successfully launched its wealth platform in the Netherlands, introducing its Wealth SuperApp and dedicated Dutch language website and targeting customers in the Dutch market who are currently underserved by traditional banks and asset managers.
This geographic expansion and continued growth of MeDirect's retail franchise demonstrates its ongoing commitment to building a scalable pan-European platform, with a focus on digital wealth and banking solutions.
Specialised lending solutions
MeDirect continued to grow its specialised lending platform, focusing on mortgages in Belgium, the Netherlands and Malta. Over the past twelve months, MeDirect's mortgage portfolio grew from €1.7 billion to €2.2 billion, an increase of more than 30%, with investment across a variety of mortgage asset classes. Key portfolios include Dutch-government guaranteed NHG mortgages, Belgian mortgages offered in partnership with Allianz, Dutch buy-to-let mortgages and Maltese mortgages offered with high quality of service and a quick decision-making process.
On the Maltese corporate lending side, MeDirect continues to extend carefully selected, well-collateralised loans to support the Maltese economy, with a portfolio of €128 million as at 30 June 2023. Finally, MeDirect further reduced its on-balance sheet exposure to international corporate loans over the past twelve months by 25%, to less than 10% of total assets (from €593 million to €446 million).
Delivering sustainable profitability
Profit after tax for the six months ended 30 June 2023 amounted to €10.1 million, compared to €0.5 million for the first six months of 2022. Net interest income increased by 36% compared with the same period last year, from €28.7 million to €39.1 million. The Group's Non-Performing Loan ratio was reduced to 2.0% at 30 June 2023, from 4.6% at 30 June 2022.
At 30 June 2023, taking into consideration the interim profits, MeDirect's Tier 1 capital ratio stood at 16.2%, with a total capital ratio of 19.8%. At the same date, the Group's Liquidity Coverage Ratio (LCR) stood at 215% and its Net Stable Funding Ratio (NSFR) at 116%. All such ratios were well above regulatory requirements.
These financial results demonstrate the success of MeDirect's model transformation, which was executed since 2019 in spite of volatile macroeconomic conditions resulting from the Covid pandemic, the Russia-Ukraine war and severe supply chain disruption.
Outlook
Arnaud Denis, MeDirect's CEO, emphasised that "MeDirect's success in executing its ambitious model transformation is reflected in improved financial results as well as continued development of its products, franchise and geographic footprint. This was made possible by careful balance sheet management combined with continuous investment in technology and talent. We look forward to further scale up our platform and deliver sustainable profitability."
More information, including the Interim Financial Statements are available at https://www.medirect.com.mt/about-us/investor-relations/
MeDirect Bank (Malta) plc, company registration number C34125, is licensed to undertake the business of banking in terms of the Banking Act (Cap. 371) and investment services under the Investment Services Act (Cap. 370). MeDirect Bank (Malta) plc is regulated by the Malta Financial Services Authority as a Credit Institution under the Banking Act 1994.