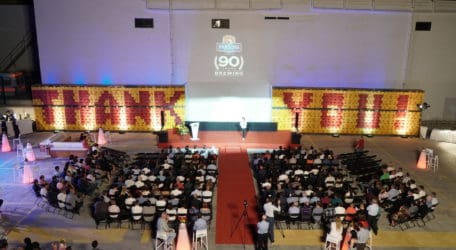 The crucial role played by employees, both past and present, in Farsons' ongoing success was recognized and applauded during an event for all Farsons Group employees at the Brewery in Mrieħel. The event was part of the celebrations marking the 90th anniversary since Farsons' first team of brewers produced the first truly Maltese beer, Farsons Pale Ale, in 1928.
"Employees were undoubtedly crucial to the success of Farsons and its beers over the past nine decades, and will continue to be the foundations upon which our Group will grow," stated Mr Louis A. Farrugia, Farsons Group Chairman. 
Farsons, which has an inclusive and diverse workforce, has always been a firm believer in the importance of its human resources. The concept of engaging talent and empowering employees, enshrined in the Company's mission statement, is one which it puts into practice as its employees are inspired by the S.T.R.I.D.E. values, namely success, teamwork, respect, integrity, dynamism and excellence. 
"Important as our multi-million investments in efficiency and process automation are, it is the commitment and loyalty of our employees, which will continue to underpin our success. Recent investments, such as our new 3,800 square metre corporate office block, are providing a motivating and productive workplace which in turn leads to innovative approaches and enhanced quality in all that we do," said Mr Farrugia.
Various employee engagement and motivation schemes such as the suggestion scheme 'AIM' and recognition awards 'Cause for Applause' are also in place. Awards for both schemes were presented to employees during the event, which was also addressed by Group Chief Executive Mr Norman Aquilina and Group Human Resources Manager Mrs Antoinette Caruana.