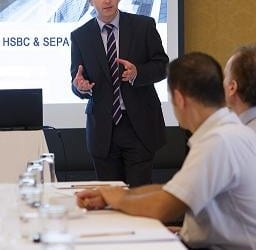 By the 1st February 2014, companies within the Eurozone must be in compliance with the core provisions of Single Euro Payments Area (SEPA). For this purpose, companies in Malta are advised to begin preparing their systems and procedures so that they may benefit fully from this major step towards a true single European market. This was the view shared by HSBC's Client Integration Manager, Paul Schiavi, when he visited Malta to hold SEPA workshops with HSBC Malta business customers.
SEPA is a payment-integration initiative of the European Union for simplification of bank transfers denominated in euros, which aims to make Europe more dynamic and competitive. It offers a single format and standardised payment schemes  across all 28 EU member states as well as Iceland, Lichtenstein, Monaco, Norway, and Switzerland.
HSBC Group has been a key driver in the evolution of SEPA XML payment standards and supports a large client base across some 60 countries worldwide.
"HSBC Malta is committed to supporting its customers so they may benefit fully from the improved efficiency and reduced costs associated with this standardised and highly competitive payment system," said HSBC Malta Head of Payments & Cash Management, Gordon Scicluna. "With proper planning and preparation, migration to the SEPA infrastructure may be embraced as a very positive development with significant benefits for businesses and customers alike."
More information about SEPA is available on HSBC Malta's website at www.hsbc.com.mt/sepa.