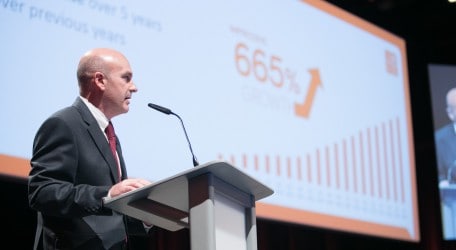 GO plc (GO), yesterday held its nineteenth Annual General Meeting, during which the Company's senior management team provided shareholders with a detailed review of the Company's performance during 2016. The meeting also approved a dividend of €0.11 per share, amounting to a net payment of €11.1 million to shareholders.
Opening the meeting, GO Chairman, Mr Nizar Bouguila, in his first address to shareholders following Tunisie Telecom's acquisition of the majority shareholding, highlighted three primary factors which are contributing to GO's successful trajectory. These are GO's game-changing acquisition of a majority stake in Cypriot operator Cablenet, further integration with the Group's data and ICT subsidiaries BMIT and Kinetix, and the results of the ongoing strategic investment in fibre, which is now available to more than 45,000 homes. These factors are providing GO with significant competitive advantages, notable new revenue streams and a more diversified business model.
The Interim Chief Executive Officer, Mr Edmond Brincat, then provided shareholders with a detailed operational and financial review of the year. Mr Brincat reviewed not only the investments in technology and infrastructure but also in human resources, TV content, and the GO brand, including the refurbishment of the Company's retail outlets which all contribute to a better customer experience. Mr Brincat also shared information on the growth in customer numbers, which now exceed 533,000 connections. The financial review highlighted GO's robust performance in 2016 during which the Group delivered a profit before tax of €28.1 million. This was underpinned by significant year on year increases in revenues, which grew by €33.3 million to €157.0 million, and in Group Earnings before Interest, Tax, Depreciation and Amortisation (EBITDA), which grew by €10 million to €61.6 million, an increase of 19.4 per cent.
Mr Brincat said, "Of course, technology, customer expectations, and the competitive and regulatory environment, continue to evolve and we must remain focused if we are to continue on this positive trajectory. Over recent years, however, it is clear that GO's leadership team, supported by our employees, have developed a successful strategy, a strategy which I must say has been fully backed by our new majority shareholders. GO can indeed look forward with optimism. We are all part of a great company which is central to Malta's ongoing development and we are well positioned to face the future."
No election for the Board of Directors was required as the number of candidates matched the number of seats available.