Farsons Group's investments carried out over the past decade yielded the improved results presented in the interim report for the six months ending 31 July 2018. These investments generated an increased capability in meeting customers demands both in terms of quantity and diversification of products and packaging, which have benefited the results achieved.  Whilst turnover exceeded €51 million, an increase of 4.1% over the same period last year, profit after tax from continuing operations amounted to €6.1 million, exceeding last year's figure by 6.9%.
Farsons Group Chief Executive Mr Norman Aquilina said: "that the positive performance across all segments within the Group has yielded improved results also when compared to the robust results registered in previous years. This was made possible following Farsons' multi-million Euro investment programme over the past decade that has enabled the transformation of the brewery, kegging and packaging facilities, logistics centre and its corporate offices. Farsons will continue to invest in its human resources, operational assets and innovation to ensure excellence in performance and to further enhance its competitive position. At the same time, it is evident that apart from experiencing increasingly varied consumer preferences and greater awareness about health, wellness and the environment, there are growing competitive pressures in all sectors. The key focus remains on our ability to respond to these continuously developing market requirements."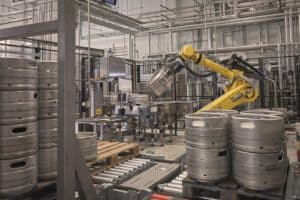 The Group's Chairman Mr Louis A Farrugia agreed with Mr Aquilina's cautionary overview, further reaffirming the Board's focus on internationalising the business. "We remain cautiously optimistic of the growth potential in both existing and new markets. The results for the first six months are indeed encouraging, notwithstanding the growing competitive and cost pressures, however the Group is also realistically conscious that continuing to achieve growth at recent levels will be challenging given the competitive environment the Group is operating in."
Mr Farrugia said that the investment in the transformation of the Old Brewhouse into a visitor's attraction centre and the creation of a micro-brewery which will enable more efficient product innovation are in their final stages of evaluation. 
The Board of Directors is recommending a net interim dividend of €1 million (2017: €1 million) in respect of the financial year ending 31 January 2019, equivalent to €0.0333 per share. Such dividend will be paid on 10th October 2018 to the ordinary shareholders as at 26th September 2018.