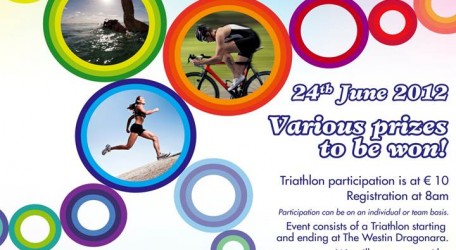 The Westin Dragonara Resort will be organising a fund raising morning on Sunday 24 June to support the 2012 Road to Awareness campaign aimed to raise at least $300,000 to support UNICEF in the construction of pre-schools and help 50,000 children under the age of 6 to get ready for primary education in Ethiopia.
The event will consist of a Triathlon starting and ending at The Westin Dragonara as well as a Zumba session, hosted by Mariza Baldacchino, taking place whilst the triathletes complete the course.
The Triathlon will entail an approximate 500mtrs swim, followed by a 4.8km bike ride and ending with a 5km run/walk.  Participants can also form a team of three persons to complete the route.
Registration starts at 8am and participation is at a minimum donation of €10 per triathlon participant and €5 per Zumba participant. Other donations are also being accepted and the highest donation will win a 7 night stay at Le Meridien Ile Maurice in Mauritius!
Every donation will make a massive difference to the lives of children in Ethiopia. You will help give children the best start to their school life, help improve educational performance, prevent gender discrimination and enhance protection of girls, ensure children begin school at the right age, and reduce dropout rates.
For further information kindly contact Maria Gauci on [email protected] or on 2374 5313