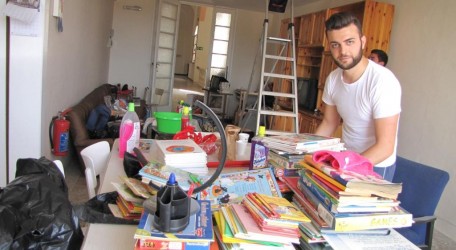 Vodafone's Outboud team recently headed to Fra Diego Home in Hamrun to help out in the cleaning of an empty flat. The Vodafone Malta Foundation also presented funds to the home to help in the transformation of the empty flat. The funds will went towards the building of 6 cubicles with bathroom facilities for teenagers living at Fra Diego Home, with the main aim of helping children and young people who find themselves in serious difficulties with their family during their upbringing to obtain the privacy they so much yearn for.
"Through this CSR day we could understand and appreciate how the Home always extends its support to those children who are experiencing some form of deprivation or abuse and who, as a consequence are exposed to the risk of various aspects of poverty and social exclusion," said James Vidal, Supervisor at Vodafone's Call Centre. "It was surely a day to remember, the whole team bonded while we gave some of our time to such a great team. We are hopeful that through our help and the funds presented by the Foundation the children will get some moments of respite in their troubled lives."
 The Outbound team was divided into teams and every team had different tasks including cleaning the kids rooms, the kitchen and the living room and playing with the kids. The flat will now welcome those children who are in the waiting list to find a shelter at the home.
To-day Fra Diego Home welcomes children coming from families with a diverse range of needs or those who have passed through some kind of abuse, experienced domestic violence and have been exposed to situations where the parents have mental problems and disorders. The Home also runs a Day Care Centre which caters for  children aged between 1 and 10 years. Moreover the Home continues to host elderly women who have been in care since their childhood. Today, another wing of this home is being renovated to host teenage girls who have done their time at Fra Diego Home and have nowhere to go.