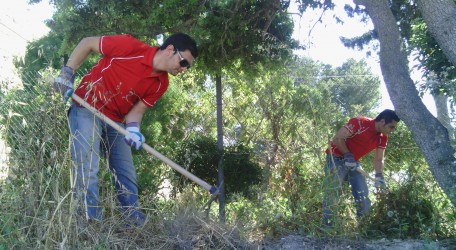 A group from Vodafone's Consumer Sales team rolled up their sleeves to clean up the garden and surroundings at San Blas Therapeutic Centre, joining forces with residents in an event where all had the opportunity to work together, sit for lunch and interact.
"Whatever you do for one of the least brothers of mine, you did it for me" said Mr. Carmel Cremona from Caritas.  "This is our motto – words found in Matthew 25/40 in The Holy Bible.  It somewhat reflects what Caritas stands for.  We are very grateful for the helping hand and the interest that Vodafone and its corporate responsibility foundation show on a regular basis."
Heathcliff Farrugia from Vodafone explained how this was an eye opening experience for the Vodafone team.  "San Blas staff and residents were very welcoming and expressed honest appreciation for our help. Talking to the residents made us realise how hard it can get for someone who has abused substances to get back on track.  Personally it made me realise how to appreciate the simple things in life.  A comment from a resident struck me when he said 'here I feel loved, I feel I have a second family which is equally important as my first one' ".
San Blas therapeutic Community offers drug abusers the opportunity of receiving further rehabilitation on a 24 hours intensive residential basis within a safe and secure community setting.  The Community host up to 28 male residents.  The programme spans an average of nine months, the last month on a semi-residential basis.  This includes a pre re-entry phase where residents start working while remaining within the San Blas Community.  After completion of the residential phase residents are evaluated and move to the Re-Entry phase.  A service offered to all clients in the last phase of rehabilitation where they are re-integrating into society.  After completion of the programme, clients are urged to keep in touch with Caritas.