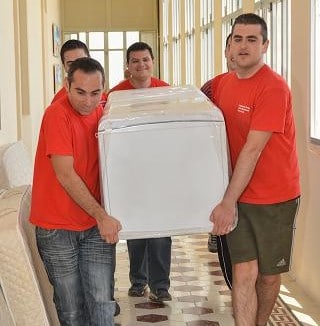 The Finance Operations team at Vodafone Malta gave a helping hand to St Joseph Home in St Venera by cleaning, clearing their rooms from unwanted items, completing maintenance work, cooking for the kids and other daily chores as part of the Independent Living Project. The football team donated a number of soccer balls and other sports equipment to further help the children in their daily recreational needs.
"The Vodafone Finance Operations team gave a much appreciated helping hand in starting the final phase of the Independent Living Project at St. Joseph's Home," said Fr. Frankie Cini, MSSP, Director of St Joseph Home. "Activities during the day included the setting up of the kitchen areas and general cleaning for the areas before being opened. This day jump started the final stage of the project which will cater for children who have nowhere to go during the weekends and for young adults who are seeking shelter before venturing out on their own. We have all been deeply touched by the generosity of the Vodafone team which delivered beyond our expectations in the preparations for the opening of this long awaited project."
"For me, it was very assuring having people like Fr. Frankie Cini and his team, who through their constant efforts and commitment strive to provide a better life to these children and young adults," said Jonathan Briffa, Finance Operations Manager at Vodafone Malta. "We are very proud that we contributed towards this project, which will surely make a huge difference in the life of these children. We enjoyed every minute of it and the happiness and pride achieved through the experience goes well beyond the effort we have put in it," he concluded.
St. Joseph Home is run by the Missionary Society of St. Paul and currently houses 18 boys aged between 8 and 18 years, who for many reasons cannot live at home. The boys live in three separate flats within the home according to their age group thus providing them with a normal home environment with the aim of integrating them within society. At present work is being done on the Independent Living Project, in which part of the home will be used to cater for resident boys who are over sixteen years old.
For further information on the project visit the St. Joseph's Home-Independent Living Project Facebook page. Donations can be done through SMS on 50618947 for a donation of €6.99, or 50618090 for €4.66 or on HSBC account: HSBC 027022730004.