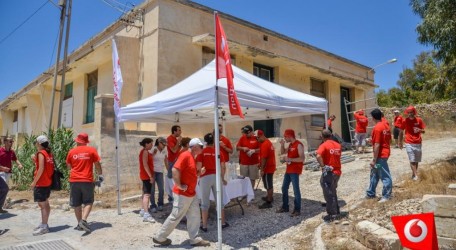 A team of employees from Vodafone's Technology Department rolled up their sleeves and helped in the gruelling tasks at Majjistral Park by replacing some of the pipe work in the bathrooms, painting the walls and partitioning areas with recyclable material at the visitors centre and cleaning up the area as part of their CSR activity.
"This event provided us with a unique opportunity to work on something that will touch people's lives, not just now, but for many years to come. Not only that, but the buildings we renovated will hopefully see many visitors in the future. The Maltese population and tourists alike can learn new things about our rich ecological Maltese heritage through the site, hopefully changing the way they treat our Island and the environment," said Andrew De La Torre, Head of Technology at Vodafone Malta.
Majjistral Park is an area in the northwest of Malta which includes the coastal area from Golden Bay to Il-Prajjet and ix-Xagħra l-Ħamra which was declared a national park in 2007. The area includes a stretch of 6 km of protected coast and a number of historical and archaeological sites. Whilst various areas of the park still sustain agricultural activities, other areas consist of natural habitats. The park is managed by the Heritage Parks Federation consisting of 3 NGOs involved in coastal management, cultural restoration and environmental protection. The organisations organise regular outdoor activities which aim to encourage an active lifestyle while becoming aware of the natural heritage of the area.
"We would like to thank Vodafone for their efforts in helping us spruce up our visitors' centre," said Darren Saliba, Park Manager at the Majjistral Park. "This will allow us to step up in our conservation in the area in an effort to safeguard them for future generations."
CSR initiatives organised by Vodafone Malta are increasingly becoming inclusive affairs, with many projects incorporating allocation of funds, hands-on work by teams of employees and protection of our environment. The Vodafone Technology team also planted olive trees on the site and were treated to a BBQ at the Gaia Foundation.