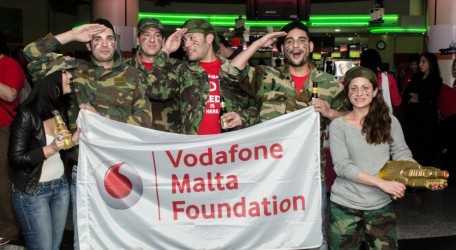 Pictured above: The Expendables
Over 80 employees from Vodafone Malta joined the fun at the Eden Super Bowl and took part in the Bowl for Bay Kids Tournament organised by 89.7 Bay in aid of Breaking Limits. Funds raised from the tournament will help Breaking Limits in generating more awareness and inclusion among society by giving a voice to disabled minorities.
Eleven teams of over 6 players each, including Vodafone Malta's top management engaged with other participants from different companies and took part in the event by inventing their own theme and wearing the appropriate gear. Teams got wigs, painted their faces, dressed as warriors and divers and got on with the fun to help raise much needed awareness and inclusion among society.
"At Vodafone, we firmly believe that events such as these will help children and young people with or without a disability and will give them the opportunity to experience freedom to show their capabilities," said Martin Greogory, Head of HR from Vodafone Malta. "We really enjoyed the bowling tournament, and knowing that we gave our best and were helping Breaking Limits to continue encouraging people to turn negative sitations into positive ones and showing the positive in each and every individual was a bonus."
Breaking Limits started off in 2011 with the aim of running break dance classes for children and young people with different abilities and help them break the limits. It now aims to organise sports and art events that will target the active participation of children and young people with a variety of abilities and provides more awareness and inclusion among society by giving a voice to disable minorities in society. Breaking Limits has already been involved in providing Motivational Speaking sessions, where people who have diverse abilities share their positivity towards life and disclose how they generate such an attitude through sports, arts and dance.
"Breaking Limits is neither a charity nor charity driven," said Oliver Scicluna from Breaking Limits. "Our fund raising is focused on motivation and abillity and unlike any other convential NGO, we firmly believe in the equal distribution of power between all members, with or without disability. We try to look outside the box and do what others haven't already done."
Every year money collected from Bay Kids is donated to a needy organisation. The initiative began in 2007 when a van was donated to St Joseph's Home, followed by a better equipped therapy centre for Fra Diego Home in Hamrun, a seven seater van for Richmond Foundation and another van for Dar Sagra Familja in Zabbar. For further information on Breaking Limits visit www.breakinglimits.org.