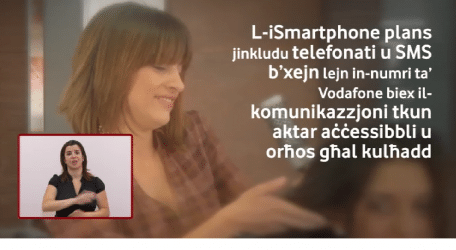 The Vodafone Malta Foundation, together with the Foundation for Information Technology Accessibility (FITA), last October launched a collaboration between the two aimed at providing access to the latest mobile and Smartphone technology for disabled persons.  This collaboration resulted in a scheme which will be funding 50% of mobile devices and related assistive software that visually impaired and deaf users will buy from Vodafone. This scheme spans over two years.
Rebecca, a young lady aged 24 who took up the scheme had very positive comments about this initiative. "My old mobile phone did not provide me with any kind of assistive technology and I could not install any accessible software," she said. Since I am blind, I qualified for the FITA-Vodafone scheme and thanks to the scheme, I bought an iPhone. This opened a whole new world of possibilities and now I make no mistakes in dialling the wrong number and can return calls with more accuracy. This scheme simply changed my life and gave me the independence I was yearning for."
Paul, aged 62 also had an old mobile phone and found it too difficult to use a mobile phone with a touch screen due to his health issues. Paul is not extremely technically minded and therefore was put off by sophisticated smartphones. "FITA and Vodafone helped me find a mobile phone that was speech enabled, making my life so much easier," he said.
Rebecca and Paul, and many others who have taken advantage of this scheme feel much more independent and secure, especially when they are out and about or travelling abroad. They discovered that now it is not necessary to remember mobile numbers by heart, since they can bring up their mobile address book, select the person they wish to speak to and simply place the call with a simple tap or click. Both are also using their phone for entertainment, especially when waiting for the bus or travelling, and using their phone to listen to the radio, music or an audio book.
"For Rebecca, Paul and many others, this could not be possible had an organisation like Vodafone Foundation not collaborated with us to expand upon our services and set up the FITA-Vodafone Scheme. This scheme is proving to be very beneficial for the deaf, the blind and visually impaired," said Michael Micallef, from FITA.
Gemma Mifsud Bonnici, chairperson of the Vodafone Malta Foundation said that the Foundation believes in equality for all and the company is making sure that through its actions it provides disabled persons access to the latest mobile and Smartphone technology.
Interested applicants can apply with FITA in order to avail themselves of the free assessment services which will direct them towards their ideal mobile telephony solution. More information can be obtained directly from FITA by calling on telephone number 25992343 or the FITA website www.fitamalta.eu.