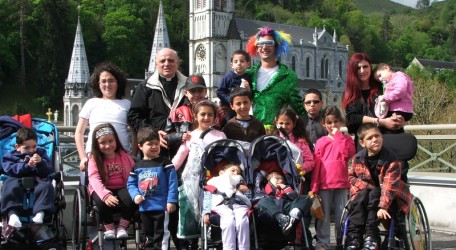 65 malades were among the contingent of Sorelle, Barrellieri, Pilgrims and accompanying relatives on the recent annual pilgrimage to Lourdes organised by the Malta Association of The Sovereign Military Order of Malta (MASMOM). The Vodafone Malta Foundation once again supported a number of patients who went to Lourdes. Once there, the Maltese contingent joined approximately 7500 members of the order from all over the world for the momentous spiritual gathering.
"The Vodafone Malta Foundation is constantly trying to help out in such initiatives," said Martin Gregory, Head of Human Resources from Vodafone Malta. "Through the MASMOM we helped those in need and made it possible for three patients to go on the pilgrimage. We will definitely continue to support such initiatives. Seeing the smiles on the faces of troubled and anguishing patients was more than enough to change one's perspective of what is really important in life."
"One can only imagine the awe and intense excitement felt by such persons when joining an impressive aux flambeaux with thousands of people in this most holy place," said Philip Farrugia Randon, President of the Maltese Association of The Sovereign Military Order of Malta (MASMOM). "The very least we could do to show our deep appreciation was to include the Vodafone Malta Foundation, their management and staff in all our prayers. All the patients expressed great satisfaction with the organization and care and several wrote heart touching letters of thanks. Like previous years we witnessed the daily miracle ofLourdes, namely the serenity which reigns in the hearts of those who offered their troubles to Our Lady with an open heart. We are deeply indebted to the Vodafone Malta Foundation's help and we would like to assure them that their assistance has been a great humanitarian effort."
The MASMOM group, supported by the Vodafone Malta Foundation, prepared thoroughly for this pilgrimage spurred on by the knowledge that this hard work would be rewarded by a deeply spiritual experience that would enrich not only the lives of the organisers and helpers but of the patients as well. The 340 contigent included Our Lord the sick, volunteers, helpers and pilgrims. Amongst the patients were two cloistered nuns from the monastery of St. Ursula in Valletta. These nuns have never left the convent for more than 60 years. The Lourdes personnel offered a round-the-clock service throughout the annual pilgrimage and professional medical personnel were present to take care of any health issues.
Young cancer patients had the most wonderful experience when they were taken on special tours around Lourdes and participated in a special Mass joining in with their own prayers and songs. Upon returning from Lourdes both the personnel and the patients came back feeling serene having shared this very rewarding experience together.