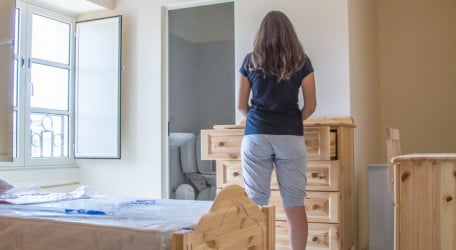 The Vodafone Malta Foundation has recently presented funds to Fra Diego Home in Hamrun to help in the transformation of an empty flat. The funds will help in the building of 6 cubicles with bathroom facilities for teenagers living at Fra Diego Home, with the main aim of helping children and young people who find themselves in serious difficulties with their family during their upbringing to obtain the privacy they so much yearn for.
"We recognize the crucial service that the Home is extending to children who are experiencing some form of deprivation or abuse and who, as a consequence are exposed to the risk of various aspects of poverty and social exclusion," said Gemma Mifsud Bonnici, Chairperson of the Vodafone Malta Foundation. "We are hopeful that with our funds this project will offer the children some moments of respite in their troubled lives."
"Providing more privacy to our teenagers will empower and encourage them to face their future with optimism," said Mgr. Victor Zammit McKeon, Director at Fra Diego Home. "For this reason we felt the need for these cubicles that would give the teenagers some rest and have their own little domain. We extend our heartfelt thanks to the persons behind the Vodafone Malta Foundation for listening to our appeal and helping us in this important project."
Fra Diego Home welcomes children and young people coming from families with a diverse range of needs or those who have passed through some kind of abuse, experienced very serious domestic negligence and have been exposed to situations where the parents have health issues.  The Home currently houses 9 children, managed by the nuns of The Franciscan Sisters of the Sacred Heart of Jesus who live their community life in Fra Diego itself. The Home also runs a Child Day Care Centre which caters for 10 children aged between 1 and 10 years. Moreover the Home continues to host 6 elderly women who have been in care since their childhood.
Throughout the years the Home has remained sensitive to changing social realities and has thus regularly adapted its role to address emerging needs and to be of service to the most needy and vulnerable members of society.