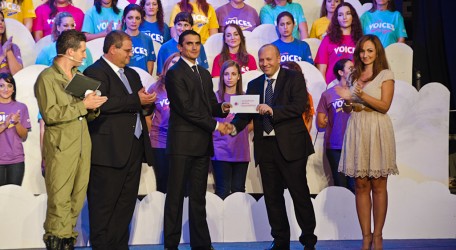 Pictured above: Jason Pavia and Roberta Pace from the Vodafone Malta Foundation presenting the sponsorship cheque to VOICES during their last dress reherseal
The Vodafone Malta Foundation is sponsoring this year's much awaited VOICES concert with the theme "Dream a Little Dream".
"This year's theme is an inspiration to all of us," said Jason Pavia, Board Member from the Vodafone Malta Foundation during the last dress rehearsal of the Voices Choir. "The moment we stop dreaming is the moment we stop living and dreams help us achieve that little bit more in life. The Vodafone Malta Foundation is supporting VOICES yet again because we believe that both organizations have a common interest to support vulnerable people develop their dreams and at the same time promote a more just society. VOICES' goals are directly related to the activities of the Foundation's goals, with both having a common interest to improve Maltese Society with our projects. All this makes Vodafone proud to be one of the main contributors of the Voices concerts."
Voices performances are made up of a 200 strong choir and a live band of volunteers who dedicate their summer every two years to raise funds for a deserving cause. For many of the volunteers who wished to get involved and be part of this year's VOICES choir it is a dream come true, exciting the audiences with their voices. A mixture of pop and rock classics from across the decades, including Beatles, Adele, Sting, Katy Perry, Zucchero, Queen, Abba, Alicia Keyes, Pink Floyd, Whitney Houston and Micheal Jackson, together with more contemporary songs are amongst this year's repertoire.
The proceeds raised from the concerts will be distributed between the lead project, Mamma Margherita and several other organisations. Tickets for VOICES "Dream a Little Dream" can be bought from the booking offices at the MCC and the Manoel Theatre or online on www.voices.org.mt.