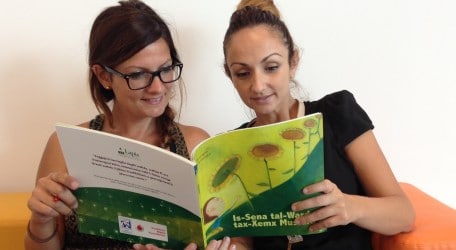 The Vodafone Malta Foundation has recently assisted the Breast Care Support Group Europa Donna Malta by providing funds for the publishing of the book 'Year of the Pale Sunflower'. Written by Silvia Ronaglia, illustrated by Cristina Cerretti and translated by Therese Attard and Tania Attard, on the initiative of the Swiss-Italian Europa Donna Young Patients Group. The book is a very useful tool for adults, parents, teachers, counsellors and all social and healthcare workers to familiarise themselves with the subject of how a parent might communicate a cancer diagnosis to young children.
"Speaking about the illness with adults is already hard but it becomes all the more difficult when it comes to the children," said Roberta Pace, Administrator at the Vodafone Malta Foundation. "Breaking the news to the children is dreadful and we hope that through our contribution we will help Europa Donna continue to tell the story on how parents can break the ice, first among adults and then with their children."
The book tells the powerful story from the point of view of two children faced with their mother's breast cancer and their gradual coming to an understanding of an illness unknown to them. It shows their inner strenght and the ability to understand and overcome the challenges of life by conquering their fears. The picture book tells a sad story with sincerity and respect and is full of hope and courage.
Gertrude Abela, President of Europa Donna Malta thanked the Vodafone Malta Foundation and said that it is only through such contributions that they can continue to help and support the community. The Breast Care Support Group Europa Donna Malta is a voluntary non-profit NGO and has been active since 1989. Its mission is to raise awareness and support patients and families passing through the trauma of breast cancer. The books will be distributed free to the Breast Clinic, Hospice Malta and the Public Library.