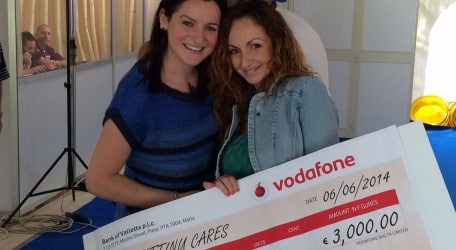 Michael Coney, Head of Commercial Operations at Vodafone Malta and Roberta Pace, Administrator of the Vodafone Malta Foundation visited the fun filled non-stop football marathon over the weekend and presented Puttinu Cares with a donation of €3,000, collected through the Employee Contribution Scheme.
Through the scheme, employees make a monthly donation that is taken directly from their salary to go towards helping charitable orgnaisations such as Puttinu Cares. "Our commitment to the community underlines the core values and principles of the company," said Michael Coney, Head of Commercial Operations at Vodafone. "To Vodafone social investment is at the heart of how we engage with our customers, employees, suppliers, investors and the community. The Employee Contribution Scheme is one initiative that underlines the fact that Vodafone, together with its employees believes in helping charitable institutions such as Puttinu Cares which carry out sterling work in our community."
This year, the Puttinu Cares Football Marathon raised almost €1.4 million. The funds will be used to pay for 12 apartments in Sutton, London which are currently being used to accomodate patients and their family who need to be taken to London for hospital care, particularly at the Royal Marsden cancer hospital.