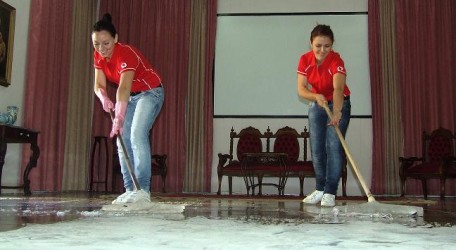 Retail and Outbound representatives at Vodafone took part in a CSR activity in aid of Dar Qalb ta' Ġesu where they got busy with the cleaning of rooms and halls of the house, re-painting furniture, clearing the outside area and tending the garden. Staff also lent a helping hand to decorate the chapel for the feast of the Sacred Heart.
Dar Qalb ta' Ġesu, better known as l-Istitut ta' Ċini, is situated in Santa Venera. This house has a long history of providing shelter to marginalized persons, or those in socially vulnerable circumstances. In 2001 the Church and government agreed to utilize this enormous house efficiently. Subsequently a second stage shelter was set up to accomodate families, women and children who have suffered domestic violence.
Dar Qalb ta' Ġesu provides a therapeutic programme which allows families to live privately in flats allocated to them. The programme also enables family members, be it mother or child, to regain their self esteem and re-learn social, life or academic skills. Mothers also have the facility to learn about child rearing and home management.
Vodafone employees described their experiences of their day at Dar Qalb ta' Ġesu. "Seven hours just flew by! So much to do in so little time. Loved every moment of that day. Waiting eagerly for the next one!" said Alex Mifsud. Sarah Jane Bugeja added "We were exhausted but satisfied at the same time and would love to do it again."  Other comments came in from their colleage David Abela "We felt consumed by the size of the place, and exhausted by the amount of work done but all in all it was great fun!".
"The tasks carried out by the Vodafone team members helped us all immensly" said Judith Debono, Administrator of Dar Qalb ta' Ġesu.  All Vodafone team members enjoyed the experience. I really can't express enough the satisfaction I get from seeing young people doing volontary work and this encourages me to keep on working for this good cause."
The Vodafone Malta Foundation has also contributed funds for the child care centre in the home, however more financial support is still needed in order to upgrade the centre to reach EU standards.