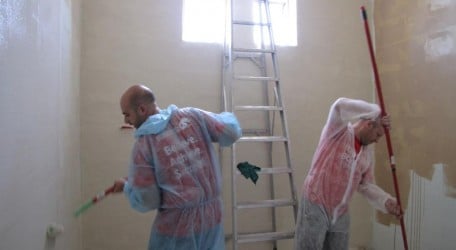 Last month, the Legal team from Vodafone Malta rolled up their sleeves and headed down South to help the children and staff at Dar Sagra Familja in Zabbar. The team refurbished an unused room within the home and transformed it into a relaxation room for the children.
"This day not only provided a sense of satisfaction in giving a little back but we also bonded as a team and had fun and a good laugh," said Melanie Borg who lent a helping hand. "It was a great way to spend time with collegues outside the office environment. All the hard work and long hours spent there was all worth it, seeing the children's faces when they returned from school."
The Vodafone team not only painted and decorated the room with pictures, chandeliers, lava lamps, cushions and curtains but also helped in the preparation of the food, kneading the dough and filling pizzas with different toppings for the children and the staff. Children and staff at Dar Sagra Familja were also given a small presentation on Vodafone's ibrowsesafely campaign, a campaign launched recently to safeguard children online and educate parents on the dangers that can be faced online.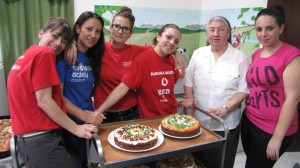 "The children are so happy with their new room. Their faces lit up when they saw it. They simply love the colours and all the ornaments!" said Sr. Denise at Dar Sagra Familja. She explained how the children are used to getting 'hand-me-downs' and till today still cannot believe that this room has been done up especially for them. This has been a dream come true!
Dar Sagra Familja is run by the Sisters of St Joseph of the Apparition, who take care of children in need and provide them with a home, love and affection. Its main aims are to offer the children shelter and stability and to prepare them for their future. The Home depends on volunteers and donations to keep its doors open and to provide the best for the children. The Sisters of St Joseph of the Apparition have been in Malta since 1845. Saint Emilie de Vialar, the foundress of the Congregation, was on her way to Algiers when she was shipwrecked in Malta; the Saint saw in this a sign from God to establish her Congregation here. She opened a school at Vittoriosa, and later on, in 1858, the Sisters were asked to take care of the Conservatorio San Giuseppe in Cospicua in the Cottonera district (Today Dar Sagra Familja). Today, in Malta besides this Children's Home the Sisters have three schools (two Primary and Secondary Sections and a third one which is a middle school). They also have a Retreat House for any group or person who wishes to make a spiritual experience.