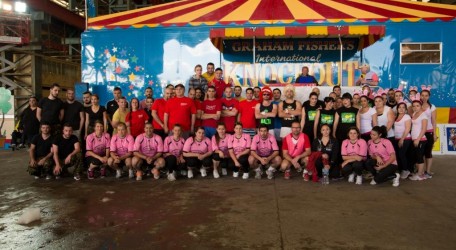 Vodafone employees did not let the absurd tasks in hand stop them from battling it out at Inspire's annual charity event "It's a Knockout". Five teams from Vodafone gave their all during the games and joined forces to have a whale of a time trying to complete the colourful and hilarious games while raising funds for a worthy cause.
"Overall it was a fun-packed event for a truly exceptional cause, and a big congratulations goes out to all the participants, some of whom are likely still sporting a few knocks and bruises after the festivities and to Inspire for organising this memorable event year after year," said Roberta Pace, Administrator of Vodafone Malta Foundation.
The Malta Shipyard in Marsa was transformed into a large inflatable obstacle course were companies, groups of people, and organisations met in a relaxed, fun and stress free environment outside their normal work routine  for an unforgettable team building event. Giant inflatable challenges, crazy costumes, wacky props, plenty of foam and water were the order of the day. Five teams from Vodafone battled it out between themselves in hilarious costumes of fully themed inflatables and with giant props. The games at hand were deceptively simple but very hard to complete and this is what strengthened bonds and broke down barriers during this memorable experience. Vodafone Malta Foundation donated the sum of €3,375 to Inspire as part of the Charity Contribution Scheme, money which will help children and adults with learning and physical disabilities who depend on Inspire's services.