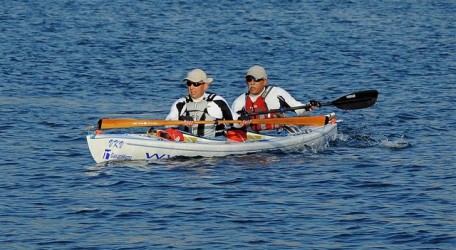 "Kayak for Cancer" paddlers Dorian Vassallo and Albert Gambina will once again embark on an unassisted paddle from Malta, taking St Paul's route to Rome, to raise funds for the Malta Community Chest Fund.  Inspired by the voyage of St Paul, the paddlers will retrace his route from Malta to Rome covering a distance of 600 nautical miles.  On arrival at Fiumicino they will paddle up the River Tiber to Forte Sant Angelo outside the Vatican.  Italian paddlers will accompany the Maltese team along part of the way.
Under the Distinguished Patronage of His Excellency Dr George Abela, President of Malta, the 'Kayak for Cancer' paddlers plan to undertake their longest ever unassisted paddle by kayak, in July next year They will be building up to the event from now, with regular paddles around Malta, around the Maltese archipelago and also from Malta to Sicily.  Fund raising will also be starting this year and Dorian and Albert are seeking the aid of corporate sponsors as well as individual donations, to go towards the challenge. Paddling and camping equipment need to be funded and a target amount of funds will go to the deserving charities of the MCCF.
The paddlers have been training since early this year, clocking in nautical miles, strengthening their stamina, and preparing themselves for next year's marathon paddle. The first Kayak for Cancer event will be an unassisted paddle from Malta to Lampedusa via Linosa in the beginning of July, covering 75 nautical miles.  This will be followed by regular paddles and related events in the run up to the St Paul's Route Rome Paddle next year.
Donations can be made by cheque payable to the Malta Community Chest Fund, the Palace Valletta, in favour of Kayak for Cancer.