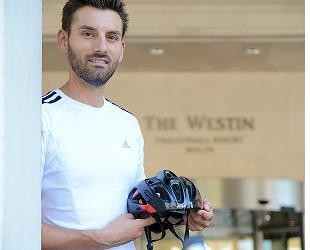 The Westin Dragonara Resort is participating in this year`s  "Road to Awareness" campaign to help UNICEF reach 2.1 million people living in poverty in urban and rural areas of Somalia with sustainable access to safe water and sanitation by 2015.
Mr. Aaron Axisa, Front Office Shift Leader at The Westin Dragonara Resort is going to be the representative of the hotel in aid of UNICEF. Aaron has taken up the challenge to cycle 355 km over a span of 3 days in the French and Swiss Alps, all in the name of a good cause. He said: "Giving a helping hand to the less fortunate is a dream come true, especially doing so, on two wheels. Two wheels are my ultimate passion, and to be able to cycle around for a good cause is the greatest feeling one can have. My goal is to finish the 3 day challenge in one piece or at least with a few minor bumps and bruises".
True to the motto "A little change can change a lot", sponsors are invited to support Aaron`s effort and engagement in aid of UNICEF by making donations through an official UNICEF charity page which will be open until the 27th of August, the day of the event.
The Road to Awareness associate fundraising campaign has been making a positive difference to children in the communities Starwood Hotels & Resorts Worldwide, Inc operates in since 2008. Last year's campaign was a huge success whereby over 8,000 children in Cameroon and Nigeria will be enrolled in school and earn their right to an education.
In 2014, Starwood Hotels & Resorts EAME aims to tie in with last year`s success to raise over USD$600,000 to help provide life-saving water and sanitation in schools and communities in Somalia. Defined as one of the least developed countries, Somalia ranks amongst the ten poorest countries in the world. It is estimated that 43 per cent of the population live in extreme poverty on less than one US dollar a day and that almost half of the labour force are unemployed.
Road to Awareness aims to benefit 3,500 school-going children and a further 21,000 community members by providing safe Water, Sanitation and Hygiene (WASH). $24 – The estimated cost of providing sustainable clean water and sanitation for one person are $230 – Household latrine (average 6 people per household) $3,500 – Construction of a shallow well with hand pump (benefitting approx. 350 people) $5,800 – Construction of gender-friendly latrine blocks with hand washing facilities in a school (approx. 120 pupils).
To support Aaron Axisa's mission for UNICEF visit the charity page www.westinmalta.com/RoadtoAwareness