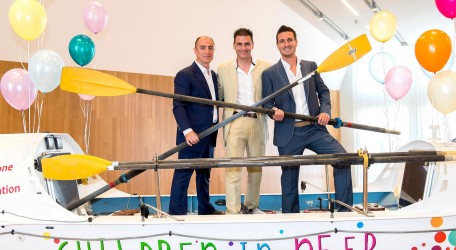 All in the name of charity, determined trio will brave harsh conditions when they row from Sardinia to Malta to raise funds for the Children In Need Foundation through the Rowing Challenge 2, supported by the Vodafone Malta Foundation.
Following five months of gruelling training, Daniel Abela, Ruben Vassallo and Neville Calleja are now putting the finishing touches on their plan to row from Sardinia to Malta to raise a large sum for the Children In Need Foundation in the Rowing Challenge 2, supported by the Vodafone Malta Foundation.
The men will brave harsh conditions and a tough 600km journey in an effort to beat the €92,000 that Daniel Abela raised in his solo challenge that saw him row from Sicily to Malta in 2008. That sum has since made it possible for 21 families to enjoy an all-expenses-paid holiday with their sick children.
This year, the funds raised will go to Children In Need, a foundation recently founded and chaired by Daniel Abela to help as many disadvantaged children in Malta as possible.
"This foundation brings together Puttinu and Inspire, two of Malta's leading children's charities," he explains. "It is a project that will see the two work together for the greater good, and will specifically support two of their key upcoming initiatives, as well as offer additional funding to other children's charities or individual cases that might need support. Every cent donated to our Rowing Challenge will be injected straight into the Foundation's efforts, since all of our expenses are going to be covered by ourselves" he adds.
Two of the projects already highlighted to receive funds are Puttinu who in collaboration with Beyond the Moon will send children suffering from cancer or other illnesses n and their families on a dream holiday to Disneyland Paris and the setting up of Inspire's educational centre specifically aimed at assisting children with learning disabilities such as autism and dyslexia, a first for Malta.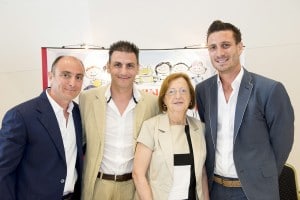 In support of the initiative, Gemma Mifsud Bonnici, Chairperson of the Vodafone Malta Foundation, said that, "the relationship between the Vodafone Malta Foundation and Daniel Abela goes back a long way. We first supported him in 2006 when he walked underwater, and then in 2008 when he took on the challenge to row single-handedly from Sicily to Malta in aid of the Puttinu Children's Cancer Support Group and the Beyond the Moon programme. This year, we are more than happy to support him again. Over the past few years we helped more than 20 families realise their dream vacation at the Paris Disneyland Resort with their children, and we are more than willing to do the same this time around," Mrs Mifsud Bonnici concluded.
The rowing trio, who have been trained under the careful guidance of coach Iman Galea, are now gearing up for a tough 10 day experience, especially as they will be completely self-sufficient for food, water, directions and first aid.
"We're totally on our own, which is a very daunting thought," said Neville Calleja. "But it will be worth it" added RubenVassallo.
"Knowing we can make such a tangible difference to these innocent children, and bring smiles to their faces, is what inspired this challenge, and is what will keep us going when we're at sea. We're so grateful to the Vodafone Malta Foundation for their on-going support and the many other benefactors, however large or small, to come forward and help us to achieve and exceed our goal" concluded Daniel Abela.
Daniel Abela, Ruben Vassallo and Neville Calleja will set off from Sardinia during the third week of July and look forward to seeing as many people as possible on their return to Golden Bay, approximately ten days later. In the interim, the public is invited to make donations by cheque to the Children In Need Foundation, 217/ 1, September Avenue, Naxxar, NXR 1013.