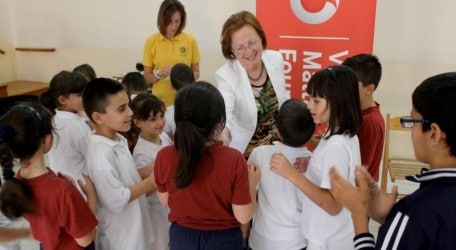 Gemma Mifsud Bonnici and Roberta Pace from the Vodafone Malta Foundation recently visited St. Margaret College Kalkara Primary School for a demonstration by the acclaimed Helen O'Grady Academy. This was an opportunity for the Foundation representatives to experience first-hand the valuable opportunities for growth, children are being offered through classes which are specifically designed to tap into their creativity while building on their social skills.
Through the Helen O'Grady Academy programme, the Vodafone Malta Foundation has for the last couple of years provided children at St. Margaret College Kalkara Primary School with a developmental programme intended to boost their confidence, encourage attentive listening and improve students' knowledge of English. Weekly classes cover speech, movement, creative expression, language development and a short improvised play designed to encourage students to "work the language". The programme boosts children's confidence and helps build strong and assertive personalities.
"There is no better way for children to learn lessons for life through a progressive and rich syllabus that also doubles up as fun and leaves  young students with a lasting sense of achievement," said Gemma Mifsud Bonnici, Chairperson of the Foundation. "Providing opportunities for children is at the core of the Foundation's work and experiencing the children's successes gives us great satisfaction and joy."
Head of the School's Progress Report Miriam Mallia spoke about the fun element that is present at the Helen O'Grady programme which proves a huge success with children. "For the sessions to be successful, we use authentic English during the sessions and children have to listen and speak in English. The children have gained confidence when using English as a second language. Again we have also noticed an increase in students' comprehension of the English language and a dismantling of the diffidence shown in spoken English," she remarked.
Alan Montanaro, principal for the Malta branch of the Helen O'Grady Academy thanked The Vodafone Malta Foundation for giving these children this valuable opportunity. "The benefits of drama in education are enormous and should go a long way in enhancing the rest of the school curriculum," he explained. "Since communication and empathy are central to drama, a student will be better able to understand and discuss problems. The link between drama and subjects such as English, History, Social Studies, and related areas is obvious. The study of literature would be impossible without drama."
Over 70,000 students attend Helen O'Grady classes weekly throughout 23 countries including Malta.