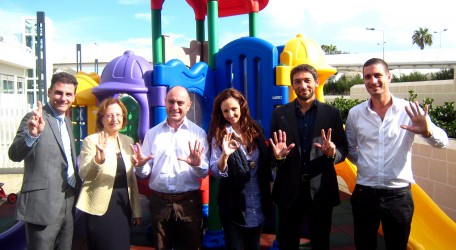 Pictured above: Daniel Abela, Gemma Mifsud Bonnici, Neville Calleja, Roberta Pace, Nathan Farrugia and Ruben Vassallo
The Rowing Challenge 2 embarked upon by Daniel Abela, Neville Calleja and Ruben Vassallo, which saw them row from Sardinia to Malta last July has raised the astonishing amount of €138,085, funds that will go towards a number of projects whose focus is on children in need.
During the presentation, Daniel Abela, Chairman and founding member of The Children in Need Foundation and also on behalf of his fellow rowers Neville and Ruben said, "We are surprised by the generosity of all our friends and business associates, who have enabled us to collect this amount of money.  No words are enough to thank our main sponsor, the Vodafone Malta Foundation and all those who have contributed either financially or in kind."  He concluded by saying "unless all these individuals came together, none of this would have been possible and believe me, your greatest reward is knowing that you have either made a child smile, or made life a little easier for them.
Mrs. Gemma Mifsud Bonnici, Chairperson of the Vodafone Malta Foundation said, "the relationship between the Vodafone Malta Foundation and The Children in Need Foundation goes back a long way. Over the past few years we helped more than 20 families realise their dream vacation at the Paris Disneyland Resort with their children through funds generated by the Children in Need Foundation, and we are more than willing to do the same this time around," Mrs Mifsud Bonnici concluded.
The initial projects that will be embarked upon are the setting up of an educational centre for children with learning disabilities, a project that will be carried out in conjunction with Inspire. Moreover in collaboration with Puttinu and Beyond the Moon, The Children in Need Foundation will continue sending seriously sick children for a fully paid holiday to EuroDisney, with their immediate family.  Anybody willing to contribute to this cause, may do so by visiting and liking Children in Need's Facebook page www.facebook.com/childreninneedfoundation and enquire on how to give a donation.