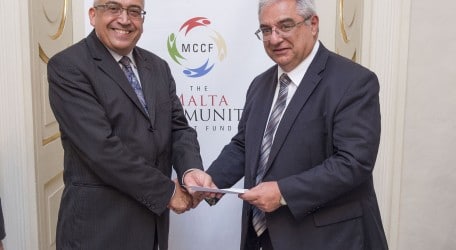 The Malta Community Chest Fund signed an agreement with University of Malta through the Research Trust (RIDT) that will finance a research project in the genetics of Osteoporosis and fractures in Malta. This silent bone disease is characterised by low bone mass and reduced bone strength, leading to increased brittleness and fracture risk, which effects around 20% of women and 6% of men aged 50 years and older.
On-going research currently being performed at the Faculty of Health Sciences at the University of Malta is led by Prof Angela Xuereb. During the press conference, the President of Malta, H.E. Marie-Louise Coleiro Preca said that this research will investigate into genotyping of new gene variants in order to increase the list of potential genes which could be used in the diagnosis of susceptible individuals. Researchers will be working with Maltese families with a family history of osteoporosis, with the aim of identifying potentially new genes contributing to the disease.
"One of the main factors leading to this condition is the genetic disposition of individuals. In this regard research shows that Malta has a high incidence rate. It is estimated that the effects of this condition cost the Government around 17 million euros every year, in particular in interventions which require hip replacement." The President further explained that this figure is expected to rise due to the increasing aging population which leads to more potential patients suffering from osteoporosis.
Given this scenario, the Faculty of Health Sciences within the University of Malta in collaboration with major European research centres, has been investigating for a number of years the causes for this high incidence in the Maltese population. Through this agreement, the Malta Community Chest Fund will be donating €38,000, in support of this important research and to continue the investigations.