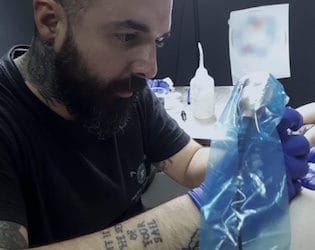 Tattoo artist Jean Paul Attard of Positive Vibrations Tattoo Studio, based in San Gwann, is teaming up with LifeCycle (Malta) Foundation to raise funds from tattooing customers. Between Monday 25th and Saturday 30th June 2018, the proceeds from his extraordinary artistic tattoos will be donated to LifeCycle Challenge. Celebrities are encouraged to join this worthwhile initiative by contacting either LifeCycle Foundation or Jean Paul himself.
For the second year running, Foster Clark's is the title sponsor of the LifeCycle Challenge which will be taking participants to Dubai to cycle 2,000 km to Salalah in Southern Oman.
The tattoo artist was touched by the LifeCycle's awareness and fund-raising campaign for persons suffering from renal failure. His sister-in-law experienced renal failure and undergone two transplants. "It's my duty. Any person who is healthy and runs a business has an obligation to help those in need, whatever the cause. I am a great believer that there is hope in all difficult situations. I am also doing this for the cyclists who are pushing themselves beyond their limits for the same cause. They are an inspiration for us, entrepreneurs, to support LifeCycle in helping renal patients," said Jean Paul Attard.
For the past 19 years, LifeCycle has been raising money for life-saving equipment to help persons suffering from renal failure, while advancing awareness about organ transplants in Malta. This year, the LifeCycle (Malta) Foundation is celebrating its 20th anniversary since it was set up by its founder Mr Alan Curry. 
LifeCycle Foundation Chairperson Dr Shirley Cefai said: "We admire and thank Jean Paul Attard for his generous initiative.  Donating all his work over a six-day period for a good cause is no mean feat.  Those who visit his Positive Vibrations Tattoo Studio would be pleased to learn that their money will be going towards the needs of renal patients."   
The event "Tattoo for LifeCycle" runs from 25th – 30th June between Monday and Saturday from 11.00 – 19.30hrs.  Persons who wish to book an appointment for a tattoo can contact Jean Paul directly on 79981911, or call a LifeCycle committee member on 7990 3961 / 7988 7889.
One can send a donation to LifeCycle Challenge via sms: 5061 7370 = €2.33; 5061 8920 = €6.99; 5061 9229 = €11.65; or via a call to 5160 2020 = €10, 5170 2005 = €15; and 5180 2006 = €25. Bank details are Swift code VALLMTMT, IBAN number MT 18 VALL 22013000000014814521017, Bank name Bank of Valletta, Account number 14814521017.
For further information and to donate towards this cause:  https://www.facebook.com/events/306454086525755/