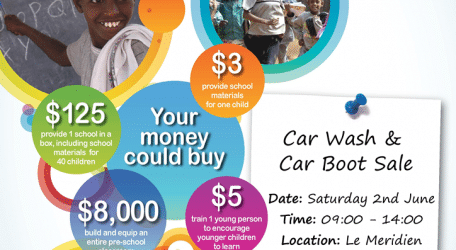 As part of Starwood Hotels & Resorts'  annual associate fundraising campaign Road to Awareness, Le Méridien St Julians Hotel & Spa in Balluta Bay is organising a fun Car Wash and Car Boot Sale on Saturday 2June, in the outdoor parking in front of the hotel's reception.
This year's Road to Awareness campaign raises money for UNICEF's Early Childhood Care and Education programme inEthiopia. The aim of the project is to provide the most disadvantaged children in rural communities with pre-primary education so they are better prepared to start going to school. Indeed, in Ethiopia, over 80% of the population live in rural communities and many children have to survive on less than US$1 a day. A lack of education and no access to pre-school is seen as one of the key barriers to a child not being able to reach their full potential and escape a life of poverty.
The money raised through Starwood's Road to Awareness campaign – which includes local fundraising initiatives across hotels in Europe, Africa and the Middle East as well as an annual fundraising bike ride – will help tackle this by giving thousands of the most vulnerable children in Ethiopia access to pre-school and the chance of a brighter future. Starwood's support will contribute to the construction of 10 pre-schools, provide pre-school education to up to 50,000 children aged six and enable UNICEF to train 10,000 young instructors to aide their learning.
Mr. Franco Vella, General Manager at Le Méridien St Julian's Hotel & Spa, said of this year's fundraising initiative: "We are very excited about this original fund-raising activity and I am delighted with the enthusiastic reaction of our associates who are putting a lot of efforts into making this event a successful and fun one. We really hope to have a great turn-out and we invite all our local customers to come and browse through the great items of our car boot sale. They can also get their car washed for a very reasonable fee!"
In 2011, Starwood raised over US$600,000 through the 'Road to Awareness' campaign which helped to support UNICEF projects in Romania and Pakistan, directly benefiting some 150 schools in these two countries.
With the aim of raising additional funds  for those children most in need, this year a group of cyclists consisting of senior leaders and other hotel representatives from across Starwood's Europe, Africa and Middle East region, will embark on the fifth 'Road to Awareness' bike ride challenge.  Starwood has decided to take their brave riders a bit further and higher than ever before, travelling for four days over the hills of the Tour de France. The riders will start in Chamonix, finishing after a gruelling 570 kilometres in Monte Carlo where they will have climbed 170 kilometres and a gradient of 9,000 metres over the four day bike ride.
"We believe that every child has the right to go to school. That is why we have chosen to focus on providing children in need with access to education. We are convinced that for these children education is the door that opens opportunities and will enable them to become fully independent members of society," Roeland Vos, President of Starwood Hotels & Resorts for Europe, Africa & Middle East says. "It is thanks to the amazing efforts and ongoing commitment of our enthusiastic hotel teams, cyclists and supportive partners that, together with UNICEF, we will be able to make a huge difference to the lives of children in Ethiopia."
In addition to the Road to Awareness associate fundraising campaign,  Starwood continues its on-going guest fundraising efforts for UNICEF through the 'Check Out for Children' programme, which was launched back in 1995. It is a partnership between Starwood Hotels & Resorts and UNICEF whereby guests at participating Starwood hotels around the world agree to the addition of US$1 (or local currency equivalent) to their bills when they check out. Last year, the 'Check Out for Children' programme celebrated a remarkable milestone with US$25 million raised through guest donations for children since the launch of the programme.
To learn more about the Road to Awareness please visit www.roadtoawareness.com  
For additional information about Le Méridien St Julians' s Car Wash and Car Boot Sale activity, please visit www.facebook/maltalemeridien