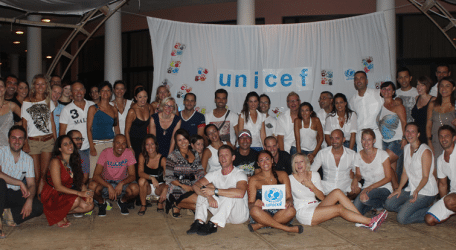 With the aim of supporting UNICEF projects in Nigeria and Cameroon, helping children in need, The Westin Dragonara Resort for the first time organized a fun salsa class at the Westin Dragonara Reef Club.
Guided by the salsa instructors Billy and Mariola, starting from basic steps to advanced choreographies, participants enjoyed an evening full of fun and Latino sounds which whipped up the emotions and contributed to a successful evening.
Apart from participants' donations, money was also collected through the sale of home-made goodie bags.
Despite it being Westin`s first Salsa for UNICEF event, this is not the only way in which the hotel supports UNICEF's cause – that of ensuring the protection of human rights in third World Countries.
The Westin Dragonara constantly strives to make people aware of UNICEF`s commitment through programs such as "check-out for children". Through "check-out for children" guests staying at The Westin Dragonara or at any Starwood hotel are given the opportunity to add an extra Euro to their bill as a donation for UNICEF. Starwood and UNICEF have been in partnership for children for over 15 years raising more than $25 million and transforming the lives of hundreds of thousands of children.
The Salsa for UNICEF event has been another step to Westin Dragonara`s support of UNICEF which achieved huge success. The organizers of the event like to thank the participants for their great support and are looking forward to next year`s event for the UNICEF cause.