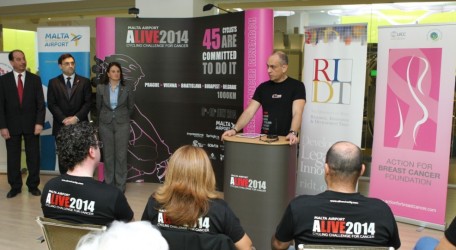 Pictured above: Nicky Camilleri addressing the ALIVE 2014 press conference in the presence of the speakers: Health Minister Dr Godfrey Farrugia, Professor Christian Scerri and MIA's Marketing & Brand Development Manager Maria Vella-Galea
In July, the second edition of the Malta Airport – ALIVE2014 Cycling Challenge for Cancer will take 45 cyclists from Malta, including 12 female participants, across five European cities: from Prague to Vienna to Bratislava to Budapest and finally to Belgrade. A total of over 1,000km will be covered in just seven days.  The funds raised from this challenge will go towards the Research Trust (RIDT) of the University of Malta, to be utilised in breast cancer research projects in order to ensure improvement in survival rates of breast cancer patients in Malta.
The initiative, sponsored for the second consecutive year by Malta International Airport, was announced today by Nicky Camilleri, Chairperson of ALIVE Charity Foundation in collaboration with Action for Breast Cancer Foundation (ABCF), a lobby group of breast cancer survivors, patients and well wishers, and Europa Donna Malta set up to increase awareness about breast cancer and breast health in Malta and to support people affected by the disease.
"Our Foundation is the first organisation in Malta that collects funds from the community solely towards medical research. ALIVE 2014,  ABCF and Europa Donna Malta are today working together to raise funds for RIDT which funds are being channeled into scientific research conducted at the University of Malta that will benefit patients and the Maltese society. The funds raised from the first Challenge held last year are being allocated with the first and biggest tranche amounting to €55,000 already being injected via RIDT into breast cancer research projects at the University to sustain this initiative," said Mr Camilleri.
"The late Mrs Helen Muscat, co-founder of ABCF, will surely remain our inspiration throughout the challenge," added Mr Camilleri while thanking all the participants and sponsors for believing in this good cause. "I am sure that the participants' enthusiasm, determination and motivation will keep them committed in the belief that every kilometre cycled and every Euro raised will eventually ease the pain of others."
Present for the launch of the second Challenge were the First lady Mrs Margaret Abela, the wife of the Prime Minister and President of the Marigold Foundation, Mrs Michelle Muscat, the CEO of the University of Malta's Research Trust (RIDT) Mr Wilfred Kenely and Ms Rimona Mifsud Cristiano, a breast cancer survivor and current patient.
The Head of the Department of Physiology and Biochemistry Prof Christian Scerri said:  "Though extensive progress has been registered in the targeted treatment of malignant tumours, there are still a large number of tumours, in particular metastatic tumours, to which there is no targeted or effective treatment. For the past five years or so, our University has ongoing research on particular biochemical pathways in breast cancer. These funds will ensure that this crucial research is sustained in the coming years," This research, under the supervision of Prof Scerri and Dr Godfrey Grech from and the Department of Pathology, both from the Faculty of Medicine, is being undertaken by a team of young researchers in collaboration with the Departments of Anatomy and Clinical Pharmacology of the same Faculty and the Mater Dei Hospital Breast Clinic.
Hearing of a cancer case every week has made this disease a big reality for Mrs Michelle Muscat, spouse of the Prime Minister and Chairperson of the Marigold Foundation.  "Whether it is a family member, a family friend or someone I don't know, the pain, fright and heart ache are all there.  It is for this purpose that I believe we should encourage our own students to research and see what's happening around us and perhaps find ways which will help us fight and win over this disease.  The Alive Charity Foundation is working hard to make this research possible and thus we should all unite to make it a reality," she said.
Breast cancer survivor Ms Rimona Mifsud Cristiano said: "I had breast cancer 3 times over a period of 11 years. I am twice a survivor and at the moment also a patient. When the doctors say that you have cancer or that cancer is back you always touch the bottom and ask what's next? How will I go through this?  Until you realise that you only have two options: either you sit back and let things happen or get up and fight it and never give up.  For the past 11 years, I always wanted to help others. Today I have the opportunity to support the ALIVE 2014 Cycling Challenge because like me they will never give up in raising funds to find a cure."
The Minister for Health Dr Godfrey Farrugia said: "It is the government's commitment to have NGOs as strategic prime partners and furthermore to strengthen public-social partnership as the right vehicle to register more clinical best practises in health care. Innovation and research are paramount in improving health outcomes and, more so, the knowledge for healthcare givers. These play a pivotal role in delivering prevention and screening programmes, treatment that holds too protocols and palliative care that continues to support patients' dignity within a framework of a national strategic health system".
Sponsored by MaltaInternational Airport, the ALIVE Challenge 2014 starts officially today. In addition, ALIVE 2014 teamed up with Sky Spirits Fitness Lounge at Skyparks Business Centre, to offer the cyclists a personalised nutrition and training programme in preparation for the cycling marathon.
Malta International Airport, Marketing & Brand Development Manager, Ms Maria Vella-Galea said: "Our company remains committed to society. We are proud to be associated, for the second year running, with this challenge. Apart from promoting a healthy sports activity it is also addressing a key area,that of raising funds for scientific research projects in breast cancer. It is imperative that corporate entities such as ours look at similar initiatives which although might not have short-term results, can surely lead to mid and long-term effects with considerable impact on the quality of life of a number of people in our society."
ALIVE 2014 is supported by Impressions, Springbox Media, Go & Fun, Debenhams and Garmin, Servizi Malta, Express Group, KPMG  and Falzon Group
Apart long hours of regular training, participants are raising funds through various events. The public may also help this year's team either by making a donation, by signing up to one of the fundraising events or by supporting the cyclists' participation on the road by logging on: www.alivecharity.com
Donors who wish to sponsor a particular participant for the challenge can either click on their picture, which can be found on the website in the section 'The Challenge', or by adding their name to the transaction description.The public can also send donations by SMS on 50617364 (€2.33); 5061 8081 (€4.66); 5061 8913 (€6.99); and 5061 9208 (€11.65), or via bank transfer: Account No – BOV 4002149804-6 Alive Charity Foundation – Bank's Bic – VALLMTMT – IBAN- MT85 VALL 2201 3000 0000 4002 1498 046.