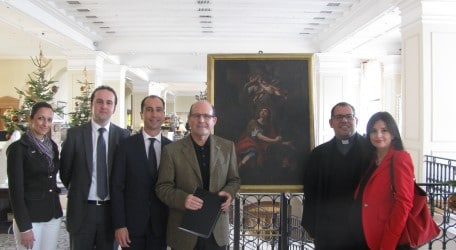 Pictured above: Josette Fenech, Personal Assistant of the General Manager, Jonathan Borg, Director of Operations, Edward Bonello, Director of Sales & Marketing, Michael Camilleri Kamsky, General Manager, Fr. Claude Portelli, Erika Falzon, EF – The Art boutique
After having contributed towards the restoration of the Church of the Immaculate Conception in Spinola, St. Julian`s, The Westin Dragonara Resort is proud to be exhibiting a newly restored painting during this year`s festive season.
The painting in question, titled St. Calcedonius Martyr has been discovered to be attributed to Francesco Zhara (1710 – 1773), one of Malta's most talented late Baroque native artists who was active throughout the mid-18th Century. Presumably painted circa 1753, the religious artwork has just been restored by EF – The Art boutique – Erika Falzon.  The painting's restoration was sponsored by The Westin Dragonara Resort.
The masterpiece is an oil on canvas painting representing St. Calcedonius Martyr whose cult was introduced to the Island of Malta by Pope Benedict XIV in 1753 when a reliquary bearing an inscription  Calcedonius in pace was found in the cemetery of Pretestato in Italy and given to the Jesuits. Before hanging in the sacristy of the Church of the Immaculate Conception in St. Julian`s, the reliquary was placed in the Chapel of Our Lady of Manresa in the Archbishop's Seminary, Floriana.
Prior to the conservation treatment, the painting was in a poor state of conservation, suffering from an acute insect attack which resulted in numerous holes in the canvas, flaking and loss of paint. Due to the hotel`s sponsorship, Erika Falzon was able to make the necessary observations and treatments in order to bring the painting to its former condition.
On the occasion of the completion of the restoration works the painting was returned to St. Julian's parish Priest Fr. Claude Portelli by General Manager Michael Camilleri Kamsky  who was quoted saying: "The Westin Dragonara Resort is honoured to have restored this painting and in so doing we have returned a treasure to the community of St. Julian's.  We are truly honoured to display such a precious religious masterpiece in our lobby during the festive season".
More information about the Westin Dragonara Resort can be found on www.westindragonaramalta.com