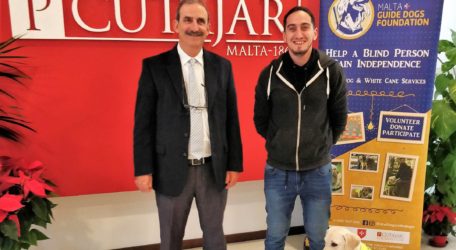 It was love at first sight when trustees of the P. Cutajar Foundation and members of staff of P. Cutajar & Co. Ltd were introduced to Dora, a seven-month-old puppy that is to be sponsored by the foundation to be a local guide dog.
Dora was donated to the Malta Guide Dogs Foundation by the Light into Europe Charity of Bucharest, Romania, and last October MGDF Chairman Joseph Stafrace and guide dog mobility instructor Luca Taliana travelled to Romania to collect her.
For the past five months, Dora has been puppy raised, first by a really nice Romanian family and currently with Luca, with whom she will spend the remaining five months of her puppy-raising stage before he will proceed to train her to be a guide dog and ultimately match her with a local client.
Dora is one of two guide dogs that the P. Cutajar Foundation, a local independent foundation, set up in 2015 to support charitable and cultural initiatives, is committed to sponsoring and thus enable visually impaired persons to gain freedom and independence.
Denis Zammit Cutajar, CEO of P. Cutajar & Co. Ltd, who is a trustee of the foundation, said he learned about the MGDF's work from the media and wished to make this donation public in order to encourage other companies and institutions to support the MGDF.
"I am impressed by the guide dogs' intelligence and this initiative to enable visually impaired persons to gain freedom and independence to go to work or in their daily life should be encouraged," he said.
Mr Taliana said he sees a lot of potential in Dora, who was on her best behaviour. She is calm and highly receptive, making an immediate impact on whoever she meets.
A guide dog also has two added advantages for the visually impaired: they can walk in the countryside on a rough road unaided and, when they are out with a friend or family member, the guide dog will follow them so when they are in a crowded place the dog takes over.
For more information, visit www.maltaguidedogs.org.mt.